Celebrating the 75 anniversary of the man who broke the color barrier in baseball, Jackie Robinson day
Spiked and disliked. Seventy five years later and we still feel Dodger legend Jackie Robinson's presence in the game of baseball. Breaking the color barrier April 15, 1947, Robinson showed a movement in civil rights for racial equality. Since 2009 Major League Baseball has had every team wear Robinson's retired jersey, number 42, to honor Robinson's legacy, life, values and accomplishments.
In early April, the league announced that along with players wearing Robinson's number they would wear it in Dodger blue, regardless of their uniform colors.
The morning of the 15, at 9:30 a.m. commissioner Rob Manfred, the Jackie Robinson Foundation Vice President of Human Relations and Talent for West Elm Sonya Pankey, along with baseball Hall of Famer Ken Griffey Jr. spoke at a news conference at Duffy square.  It was announced that a portion of 42nd Street will be temporarily renamed to "Jackie Robinson Way". Thereafter, the sign will go to the National Baseball Hall of Fame in Cooperstown, New York.
At noon, Hall of Famers Mariano Rivera and Joe Torre along with retired baseball players CC Sabathia and Butch Huskey accompanied Jackie Robinson's granddaughter Meta Robinson to the lighting ceremony of blue and white lights with the rotation of the number 42 on the Empire State Building per MLB. 
Back at the Dodger stadium in Los Angeles, home to the then Brooklyn Dodger's, the organization announced via instagram and twitter that on April 15 the first 40,000 fans will get a Jackie Robinson jersey. 
Dodger pitcher David Price joined former players Edwin Jackson and Curtis Granderson to read, "I am Jackie Robinson" at Longfellow Elementary School in Pasadena to about 500 students. Outfielder Mookie Betts reflected on Robinson's legacy at John Muir High School which Robinson attended, and unveiled a mural on the side of the school.
"For 75 years, he has affected people's lives," Betts said in an interview with MLB. "This is his home and it is fun to see bits and pieces of him all through Los Angeles."
Prior to the game, the Dodgers manager, Dave Roberts brought the team to the Jackie Robinson statue in the center field plaza, which was revealed last year, where Roberts talked to the team and was accompanied by Robinson's son, David Robinson. He shared about his fathers fight for equality.
"It is special," Roberts said. "It was great having our players out there at the statue. It just speaks to our guys understanding that baseball is bigger than us individually. We all have a platform, an opportunity, a responsibility — as David said today"
Later that evening before the Dodgers took on the Cincinnati Reds at 7:10 p.m., fans began to see the ceremony. As you found your seat you were able to see Robinson's 42 mowed into center field and watch videos about Robinson on the screens.
As the starting lineup was announced all players were described as "number 42" and when it was time for the national anthem, players from both teams lined up in front of home plate towards third and first base where 42 was seen on all the players' backs.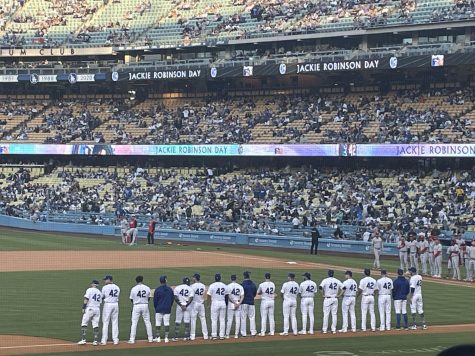 Before first pitch, Rachel Robinson, Robinson's widow, was driven down from the center field gate and received a custom jacket with her husband's picture on it from the Players Alliance. Fans cheered and gave a standing ovation.
"To see the Players' Alliance give her that jacket and spend some time with David, it was a really cool night." Roberts said.
The Dodgers beat the Reds 3-1 and while enjoying Friday Night Fireworks it was announced that the music played would be in honor of Robinson.