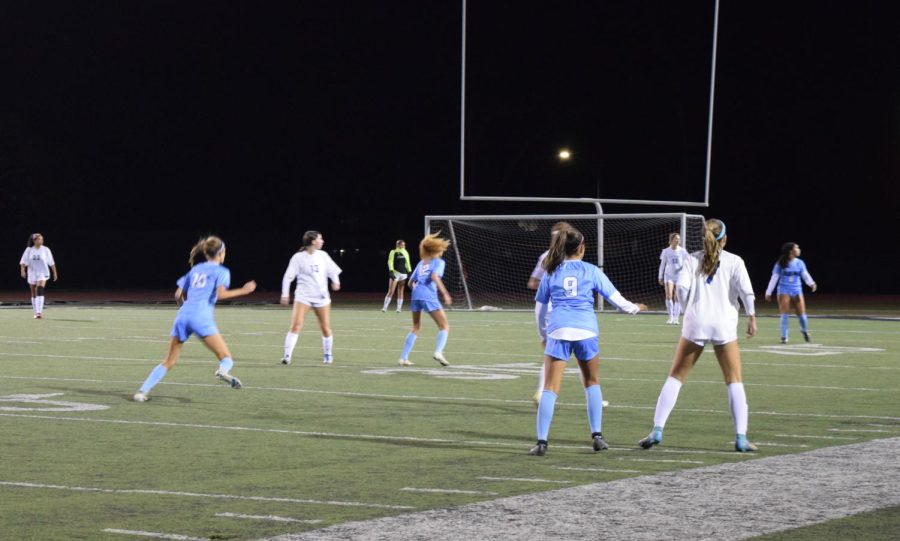 Bulldogs regroup in the dog house after westlake warriors wipe the field clean
December 6, 2022
In the quiet hush of the Buena High stadium, players gather to take a deep breath and visualize; The calm before a storm of misinterpreted calls, fierce competition, and lightning-fast speed. As the 2023 girl's soccer program prepares for their first taste of a spectacular game.
The Buena girls were fired up to go head-to-head with the Westlake Warriors for their first home scrimmage. When the game begins it's a rapid shift as the players pass and block the ball. Quick decisions and constant movement. Junior Lianna Powell, a varsity starter is the first to switch out for the bench and gives insight into the team's energy for this game.
"I think once we find our footing and open up more, we'll start to get a rhythm and get into the flow of everything," Powell said.
As the game stretches on the girls start to realize the Warriors aren't messing around. After a couple of close calls, the Warriors pulled ahead by one goal with the clock standing at 22:28 left of the first half. 
"They're dominating us in the defensive line. Simply because we're playing a little bit flat and a little too slow which they're capitalizing on," Wood said regarding Buena's mental state as the Warriors gained momentum. "But I think our midfield is stronger than a lot of us thought it would be which is good."
With 19 minutes and 32 seconds left on the clock, Westlake #23 was awarded a penalty shot against Buena, and with a swift curve kick, the warriors pull ahead by two goals. 
The girl's soccer team not only has great internal support from coaches and teachers but parents as well are excited to see what this season holds. Marisa Murphy, a team mom, understands that the girls have skills to work on but overall this year holds lots of promise.
"Overall, they look very strong. They look very fast. They look very tough. And I think once they work out these little kinks, they're going to have a pretty good season," Murphy said.
Another forward player, junior Amalia Nolan, was the most mentioned player for advanced skills within this scrimmage. Nolan has been on varsity since she was a freshman and has only been improving in skill since. 
"Since we're stepping into our first game with new teammates, and as a new team you have to get used to each other and I think that we are adapting to the way that each other plays," Nolan said. "For the first game, I think it was pretty good."
"
Overall, they look very strong. They look very fast. They look very tough."
— Marisa Murphy
With the final score consisting of 0-2 in favor of Buena's guests and rivals for the night, the team regroups and touches on mistakes and skills that need to be improved upon for these girls to make it in their CIF [California Interscholastic Federation] division finals. 
As a whole, the team is most excited for the Ventura game, Buena's top rival, which will be the girl's most challenging game yet. Amanda Tewes, also known as AJ, is the girl's varsity coach this year. Tewes believes in the community of the team and practices strong communication throughout the team.
"I think the scrimmage went well, it's the first scrimmage of the season as a team. I think we worked well together. We all have an important role in making our success, and I think we will make it to CIF," Tewes said.