Local hidden gem Kyoto Sushi rolls taste buds away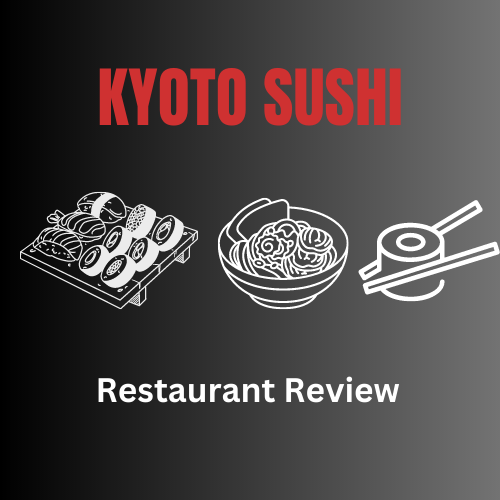 Down Telegraph Rd, in the corner of a small unsuspecting shopping center, stands Kyoto Sushi, an authentic and traditional Japanese Restaurant. If you are looking for a new place to try, Kyoto Sushi is definitely worth your time and money.
As you enter the small restaurant, you are warmly greeted by the staff and quickly seated at a place of your choosing, whether that is in one of the six tables available or at the bar counter, which allows a great view of the chef's cooking. On their busiest days, which normally tend to be Fridays or weekends, there may be some waiting time for a table, however, they normally seat you fairly quickly. If you do not plan to stay and are in a rush, they offer pickup and delivery, perfect for those who prefer to eat in the comfort of their own home. 
Once you are seated, a staff member will bring you a menu to look over, which is also available to look at online and is simple to follow. The menu offers a wide range of options to choose from. If a question arises, the staff are more than happy to help and  allow customizations to most of their meals. From personal experience, it is always good to begin with a nice appetizer, either cold or hot. 
Prices vary depending on the choice of meal, which vary from sushi to chicken combos. Most are priced around 20 or less dollars, excluding the price of sushi or sashimi. Kyoto Sushi also offers sushi boats and party trays which are priced higher. 
Tempura California Roll
If you want to keep it safe, a California Roll is always the best pick. Now imagine topping off such a delicious roll with tempura. Pieces of tempura (shrimp fried in batter) are placed on top of each sushi piece, which is then drizzled with a special sauce and spicy mayo. Each piece is cut into perfectly sized portions making each bite filling and enjoyable. The crunch of the fried tempura perfectly balances the tenderness of the rice and sweetness of the crab. The mix of different ingredients explode in your mouth as you take the first bite. 
Regular Ramen Combo with California Roll
For those who are unsure of picking between ramen or sushi, the ramen combo is the option for you. The combo varies in price from around $14.95 to $15.95, depending on the side of your choice. The meal offers four side options: California roll, spicy tuna roll, gyoza, or shrimp tempura. You are also given the option of picking between regular ramen or seafood ramen. The ramen is served on a hot plate with the sushi plated separately. The tender and chewy noodles are bathed in a rich and spicy broth and topped with an egg coating the noodles with its yolk. The meal is perfectly balanced with six pieces of sushi. 
Chicken Bento Combo 
A little variety is all we need every once in a while, and the chicken bento meal offers just that. The chicken is just one of the five options. Others include beef, spicy pork, chicken katsu, and salmon. Before you are presented with the main course, you are provided with a warm and tasty miso soup served with tofu. A perfectly small portion to save a little space for what's to come. All of the bento combos are served with a daily special salad, steamed rice, and the option of a california roll, spicy tuna, or mixed tempura. The chicken is coated in an extremely richful teriyaki sauce and topped with sesame seeds. Perfectly bite sized chicken portions to enjoy with a little side of rice. You can't forget the delicious and fresh taste of a California roll. A warm and filling meal for those who want a little balance and variety in life. 
Kyoto Sushi definitely deserves to be given a chance, so next time you are craving sushi, head down Telegraph and show your support. You will not regret going.