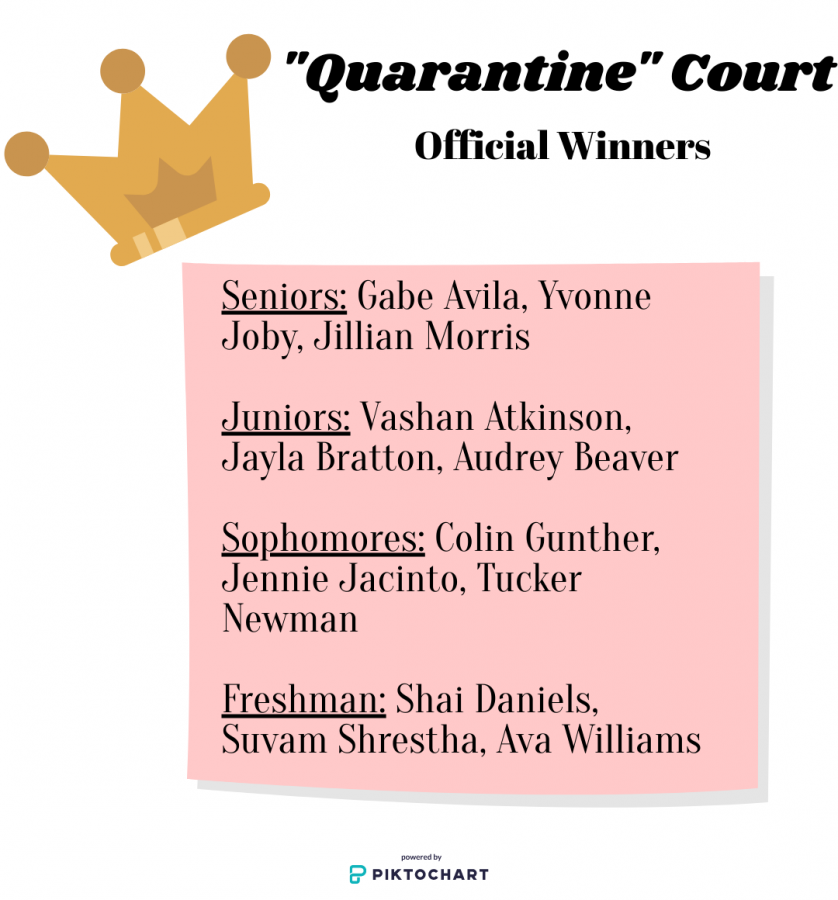 Jacqueline Magana-Chavez
Buena leadership recently hosted their first ever "Quarantine Homecoming",with nominations beginning Oct. 13, and official quarantine court winners announced Nov. 11. Even during these uncertain times of distance learning, many students competed for titles within their grades.
ASB advisor Aimee Foster elaborated on the process of choosing the quarantine court. 
"It is made up of two parts this year. The student winners that students nominated and voted on, and ones that staff nominated and voted on," Foster said. "On the ballot out now, two of the four students on the ballot in each grade level will win by majority vote. Staff has a different ballot with different names based on staff nominations, they will vote just one student from each grade level."
Unlike previous years, when there have only been two winners per class, this year, there are three winners because of the extra students the staff will be voting for. The student winners and their parents were notified via email before they were announced to the remaining student body through leaderships's instagram account. The winners also received a celebration by the leadership program on campus.
This year's winners are: 
Seniors: 
Gabe Avila
Yvonne Joby
Jillian Morris
Juniors:
Vashan Atkinson
Jayla Bratton- "This moment is important to me because I conquered my personal doubts of running for homecoming. I always thought I wouldn't even be picked to be nominated to be completely honest."
Audrey Beaver
Sophomore: 
Colin Gunther 
Jennie Jacinto- "I ran this year for fun and because it was gonna be different but i'll probably run again next year for fun."
Tucker Newman
Freshman: 
Shai Daniels- "it shows that people think that I deserve this. It shows that I can make a difference and that I am becoming the person that I hope to be someday"
Suvam Shrestha
Ava Williams