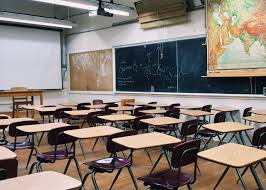 Free Source Image
VUSD has recently postponed in-person learning from returning after semester 1 to April 12, which begs the question of whether or not students will actually get to attend the classes face to face and not over a computer screen.
"I miss the social interactions I had with new people in my classes and the projects we did as groups," junior Charleen Leyba said. "I miss having something to do after school and being with my friends such as, cheer practice and interacting with others." 
Buena students miss being able to speak and see other Buena students and teachers. Social interaction is not the same compared to what we had when we were in-person, students from Buena agree.
"What I miss the most is the socialization in class and working in person with other students," junior Cayden Ewing said.
Many Buena students share the same urge to meet their peers in person again.
"I miss being able to have a one-on-one connection with my teachers and peers," junior Lenora Pell said.
Despite wanting in-person learning to return there are still some concerns regarding health.
"My father is at high risk of COVID-19 and I am not willing to risk his life so I will sit at a desk for six hours," Pell said.
Like Pell, other students could be worried about attending in-person learning and potentially bringing the virus home to loved ones. Although concerns may arise, there are certain precautions students can take.
"Students should wear masks everywhere they go and use sanitizer," Leyba said
Before the in-person return was rescheduled, it was originally planned to occur right after the first semester, this would start the second semester in the hybrid learning classes. Much to the dismay of many students, VUSD was forced to change their planned date to return to school Jan. 26 due to the cases spiking from 3,422 at the beginning of Nov. to 50,933 in Jan.  
"When I found out I was very sad because I was looking forward to meeting my teachers and seeing my friends but I guess it's just the right thing to do," Leyba said.
Students like Leyba are sad about in-person learning being postponed but acknowledge the safety of others.
"Like everyone else I'd love to go back sooner, but I know that staying home is safer with the pandemic," Pell said.
Overall COVID-19 is an uphill battle that we all have to overcome together, if everyone does not stay safe, the quarantine will be in effect for longer, resulting in-person learning being postponed for a longer period of time.