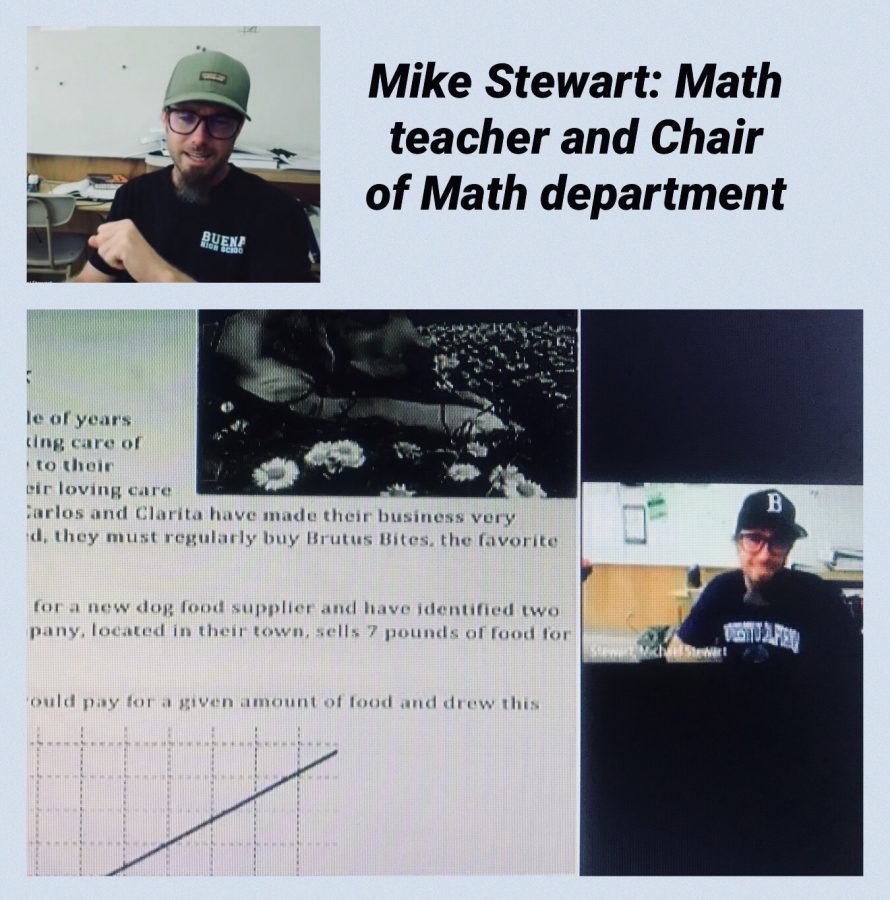 Galilea Velasco
Not many math teachers would tell students it is okay to hate math, but Math teacher Mike Stewart does.
"I know math is scary to a lot of students, it's villainized…my approach is to try and help students find themselves in success," Stewart said.  
As a math teacher and Department Chair of mathematics, Stewart has now commenced his thirteenth year teaching. Compared to other years, this one presents a unique set of challenges due to school closures.
"The hardest part for me is not being able to walk around the classroom with my students and seeing where they are getting hung up, seeing where I can help them or seeing where I can motivate them," Stewart said.
This year he has had to teach in spite of the "lack of connection" as he can not see or get to personally know his students behind the screen which has presented a major challenge as Stewart relies on connection which acts as "the core" to establishing trust. Stewart believes that students who trust him are more likely to approach him with any questions or concerns they have. 
Math teacher Anne McGavern has been teaching alongside Stewart since he started at Buena, and has been able to witness his response to distance learning. 
"He has really thought about all the details, he thought about what it would be like to be a student on the other side," McGavern said. 
This thoughtfulness has been perceived by his students as well. Daniel Camacho, a junior in Stewart's first period class, described the class as having "more participation" due to the "genuine questions" Stewart asks. 
"Because he [Stewart] cares we care…He puts in the effort, he doesn't rush through the lesson," Camacho said.
Stewart's character stands out to everyone, especially to his colleagues. McGavern struggled to communicate the extent of the impact Stewart has had on the math department and students. 
"He's always steady for his students, and for his colleagues, we can always go to him…He's thinking of all of us and how we can benefit, improve or grow," McGavern said. "He's a contributor to society in so many ways. He's always giving to our community and to students." 
In addition to being a much-loved math teacher, Stewart is a generous benefactor to society, making environmentally conscious choices. McGavern mentioned that Stewart and his wife grow their own food in their backyard, compost, support local businesses such as the farms markets and local artisans and even own a hybrid car. 
The same measure of care Stewart shows to the Earth is also extended to the Math department. His style of teaching and his attitude has become essential to the math department. 
"Stewart has been the head of our department for so many years, probably close to a decade. We continue to vote for him every year because we all trust that he is fair and is a really good leader for all of us," McGavern said. 
"The math department is so strong… I feel like we inspire each other… They're all awesome," Stewart said. 
Now more than ever, staff at Buena collaborate with each other to better their teaching skills and techniques. Stewart would get daily emails from teachers, and thinks the communication between colleagues here right now is tremendous."
More than anything, what motivates Stewart to strive forward past the hurdles presented is focusing on his students. 
"I think about my students. They are stuck in this situation too. This is their education and it is still my duty and desire to teach my students math," Stewart said. 
Stewart continues to motivate his students and works hard to maintain a welcoming environment, even if it is virtually. 
"I want all my students to believe in themselves and to believe they can learn whatever they put their minds to, because they can. That's what education is all about," Stewart said. 
Math aside, Stewart wants "to let students find themselves in success" and he will do this "by providing support and assistance in math and emotionally." He is willing to put all his efforts "to make sure [his] students feel cared for and help them to the best of [his] abilities so they can be themselves".