VUEA, VESPA rally to counter district proposal over healthcare cap
November 18, 2022
At the VUSD board meeting held at the Education Service Center Nov 8, 2022, educators and staff came forward to share their thoughts on the ongoing fight for a full 12.84% pay raise. During the start of the negotiations process, educators were offered a 1% pay increase, as well as a 3% one time bonus. This sparked outrage within the community and staff went on to show support for competitive salaries by putting signs in their car windows and on their lawns, wearing red on Wednesday's to schools, and secondary students even took part by organizing a walk-out. At recent board meetings, in addition to educators, parents, students, paraeducators and retired staff have taken it upon themselves to express their concerns on the offered raise.
Sebastien DeClerck, teacher and vice president of the VUEA, expressed concerns about the ability of VUSD to retain qualified staff if neighboring districts pay more than VUSD. 
 "We [educators] have a history of sacrifice," DeClerck said.  "And the board has a history of taking advantage of that sacrifice."
Buena Choir and English teacher Kevin Downey addressed the board explaining why he thinks the almost 13% raise teachers are hoping for is reasonable. "We [educators] are not being greedy, we are tired of being taken advantage of," Downey said. He has also expressed on behalf of all educators, that they feel insulted by the actions the board has taken to offer only a 1% raise.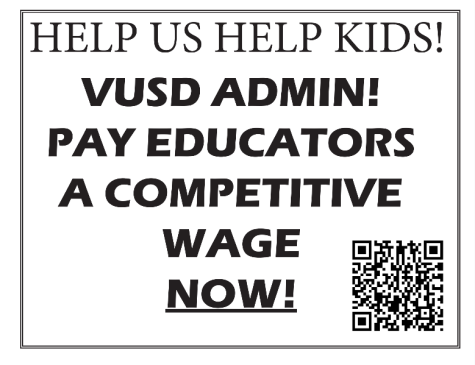 Buena English teacher, Andrew Coates, also addressed the board wearing a red VUEA shirt. Coates went on to emphasize that the hiring of an "expensive attorney" was a move made by the board to "intimidate" educators. Coates described the attorney as having no respect for educators and labeling them as unequal to the board members. 
"You've [the board] hired a divorce lawyer when what we need is marriage counseling," Coates said. 
In an email interview Coates mentioned the positives he has seen emerge from this difficult situation.  "There is tremendous momentum to fight hard for what we are owed" Coates said. He calls the "fight" encouraging. "I am grateful and humbled by the support we are receiving, oftentimes it feels as if teachers are not given the appreciation…but right now I feel the love." 
"
We have a history of sacrifice, and the board has a history of taking advantage of that sacrifice. "
— Sebastien DeClerck
Nov 9, 2022, negotiation changes were proposed. The negotiation meeting included district and VUEA personnel. District personnel, assistant superintendent, Gina Wolowicz and her team showed followed by board attorney Sal Holguin, also showed. The board proposed a 6% pay increase with an additional 4% on the condition that the union puts a cap on their health and welfare costs, this would mean that the district would only pay for a portion of educators' health and welfare. Although VUEA planned to counter the offer Nov 9, there were too many details to work out that prevented them from doing so.
"If we can't figure out a way through this cap, then we will be at an impasse," the VUEA website read. 
VUEA has created a counter proposal asking for a 12.84% salary increase with fully funded health and welfare benefits. 
"The district needs to realize that we will not accept a cap on health insurance," Downey said in an email interview. "We need unity."