Buena makes history heads to CIF Division Championships
Buena's football team got ready for their first playoff game Nov. 5 2021 against Paraclete High School on a foggy night. They were confident they would be successful. The team had recently defeated Ventura High School Oct. 22 2021 in the crosstown rivalry game.
"Yes [we] definitely feel confident, we have good chemistry together," John Carter said prior to the game. Carter felt confident in his team after beating Ventura 29-28. 
"After that win that was the main goal of the season, we are out there getting after it really," Carter said.
Buena won eight games out of 11 this season. The team made their first appearance in the playoffs for eight years. 
Paraclete High School began with a kick-off the ball, Zane Carter got the ball down to the 30-yard line and connected with junior Colin Guenther for a huge 62-yards play. Two plays later, Zane Carter scored to give Buena the lead, 7-0. Defense from senior Freddy Martinez, got a good tackle in, as well.  
Paraclete made a touchdown tying the game at 7-7. With both teams on their feet, ready to cheer on their team, Buena started with a kick-off that soon led to a touchdown by senior Carson Russell.  
"The best possible way we could have ended the second quarter, those were plays that needed to get done with momentum" coach Vance Griffin said. 
Their third quarter started and Zane Carter made a play throwing the ball down the line to Martinez skillfully caught the ball and made the crowd go wild. Soon after, Zane Carter was able to get another touchdown for Buena, giving them an even greater lead of  21-7. Nevertheless, Paraclete was not going to give up. 
Junior Chase Coyne made a defensive play tackling number 13 on Paraclete. Soon after, Zane Carter scored a touchdown that got recalled by the referee allowing Buena to score a field goal making their lead 24-7. 
During the fourth quarter, Buena punted the ball bearing out of bounds but senior Kaden Anderson got a grip on the ball and made a play for Buena. 
"I'm very proud of my team, we had many injuries this week but everyone stepped up to play," Anderson said. "We are going to win, I have no doubt" 
Zane Carter kept it going for the last winning touchdown in the game. The final score was 31-7. Buena's football team heads to round two of the playoffs with excitement and confidence to go further.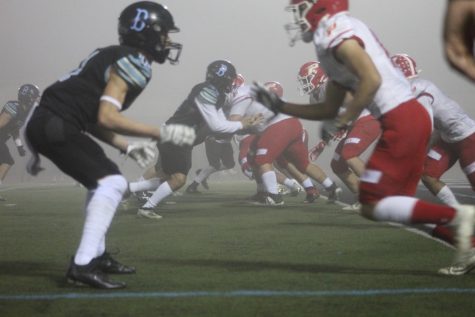 "Anytime it's in the playoffs it's a competitive game, our kids came out and delivered." Head Coach Ryan Bolland said.
"Probably the best game we have played all year" 
Nov. 12 2021, Buena went on to play El Dorado High School for the quarter-finals.
Zane Carter took a three-yard touchdown run to take Buena on a lead of 7-0 as well as a 1-yard touchdown in the second quarter making the score a 14-0 lead.
El Dorado was able to catch up, Buena letting a 14-0 lead slip into a 20-14 lead. Camden Walker with a two-yard touchdown run to get Buena on top  21-20 with 10:21 to play in the fourth quarter. 
Buena kicked a field goal to win the game 24-20, in the CIF-Division eight quarterfinals. 
Buena then went on to their first CIF semifinal since 1993, facing the Silverado in Victorville on Friday Nov. 19. The team not only beat 30-26, but they also got themselves to the CIF finals this Saturday Nov. 27. This is Buena's first-ever CIF championship, and it is at home at 7 pm. 
The Bulldog football season this year is one for the records, so make sure to come to support the team next Saturday. 
"We are at our all-time high, I think we are ready to make history and that would be a great opportunity," Brandon Rice said