Formula One Celebrates Success Midst Pandemic in 2020
This season, Formula One drivers crashed into a wall with the coronavirus outbreak. However, the drivers kept going full speed as they got back on track.
In mid-March, Formula One drivers would normally begin racing in Australia, as the first Grand Prix, or race track. Due to the current pandemic, the official starting date was at first undecided, but Formula One quickly became the first worldwide sport to resume midst the pandemic. 
According to formula1.com "the first ten races of the season [were] postponed or cancelled. These are: The Australian Grand Prix (cancelled), the Bahrain Grand Prix (postponed), the Vietnam Grand Prix (postponed)…"
With various cancellations drivers were limited to the locations they were able to race at, leaving 2020 as a 17-race season instead of the usual 21. Nevertheless, the 20 drivers belonging to the 10 teams delivered performances that shocked all of the fans.
In consonance with Lights Out Blog, Lewis Hamilton, British driver for Mercedes since 2013,"set new benchmarks and broke once unimaginable records at every round of his seventh-title winning year." 
"

Lewis Hamilton set new benchmarks and broke once unimaginable records at every round of his seventh title-winning year.

— Nicky Haldenby on Lights Out Blog
Hamilton had been under the spotlight as fans anxiously thought about him possibly breaking the records set by none other than Formula One legend, Michael Schumacher. In the end, fans were pleasantly surprised as Hamilton won for the 72 time, the same as Schumacher, but that's not all Hamilton accomplished.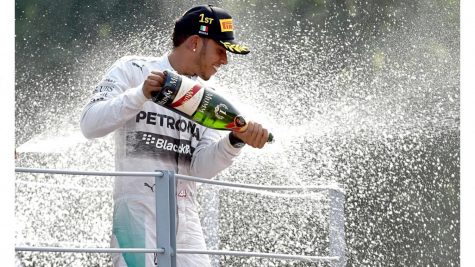 Even though Hamilton got the virus and had to pull out of a race he was still able to set a "new record for most successive races in which a driver has scored points…he also became the first driver to take pole position in fourteen consecutive years," as stated in Lights Out Blog. "Hamilton became the first driver in the history of Formula One to have lined up on the front row at 150 Grands Prix," among the thirty six  records he has broken.
The 2020 season was not only successful for Hamilton but also for other drivers, such as the ones that drove to the top spot of the podium for the first time in their Formula One careers. These drivers include Sergio Pérez and Pierre Gasly. 
Pérez, "Checo" has competed in 189 races and "ranked second on the all-time list among drivers who had never won a race…Pérez broke through for his first career victory in the Sakhir Grand Prix, rallying from an early spin which dropped him to last place behind the safety car to win by more than 10 seconds over Esteban Ocon, his former teammate," as reported by beyondtheflag.com.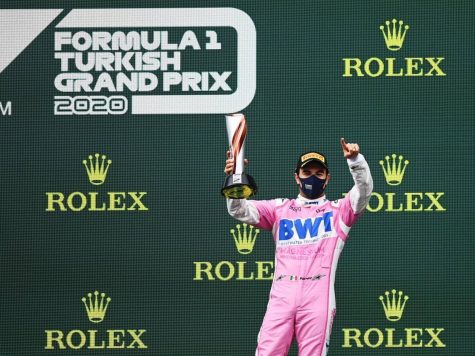 The 30-year old Mexican driver ended his 2020 driving season with a bang, but fans were quick to worry as his contract of three years had finished with his team, Racing Point. However, last month they announced he would replace young Thai driver, Alexander Albon in top three team, Red Bull Racing. Meanwhile, the "little brother" of Red Bull, Toro Rosso, now known as Alpha Tauri celebrated their first place win with French driver, Gasly. 
In agreement with autoweek.com no one considered for a moment Gasly could take the win, but indeed he did. There he became the first Formula One  race winner not to come from Mercedes, Red Bull or Ferrari since 2013.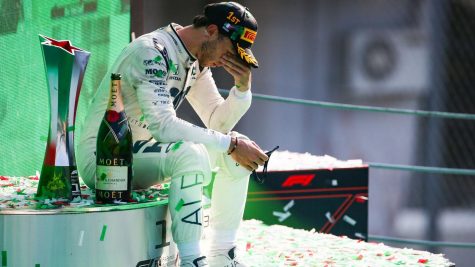 Gasly is said to remain with Alpha Tauri for the 2021 season. Other than Gasly and Pérez, the podium welcomed three new faces, Lando Norris, Esteban Ocon, and Alexander Albon, who are all under the age of 25. Moreover, the podium also welcomed back Sebastian Vettel, championship winning Formula One driver of over 14 years.
Vettel who has belonged to Ferrari for the past six years, started the 2020 season as "a bit of a nightmare, with the four-time champion having scored less than a quarter of the points of team mate Charles Leclerc in the [first] five races… But Vettel's rivals and former teammates [had] backed the German driver to recover from his current performance dip and come back stronger," as reported by formulaone.com. 
Without a doubt, Vettel was ecstatic to celebrate first podium win in over a year. After leaving Ferrari, Vettel is said to replace Pérez at the Racing Point team that has been rebranded now as Aston Martin. 
With the 72 running season of Formula One world championship, starting March 28, fans are looking forward to a packed season with the final nine races over just 11 weeks, as stated in thedrive.com. Nevertheless, fans are on the edge of their seats waiting to see what type of wrench the COVID-19 pandemic will throw into the works, knowing for a fact that it will not stop the drivers from performing their best.