Boys tennis strives for success against Channel Islands
The crisp bounce and skids of the shoes were heard throughout the courts as the boys prepared to face Channel Islands. "Balls up" called coach Robert Duteil motioning long team players, senior Raul Aguirre and Amrit Selva to stop practicing and start getting ready on their designated double court.
Although the boys tennis team is relatively fresh to the courts, they gained a win as they beat Channel Islands, March 17, at the Buena courts.
The game started 30 minutes ahead of schedule, 3 p.m., rather than 3:30, due to the early arrival of Channel Islands. Prior to the game, senior Omar Rivera felt "confident" that they would beat them.  
This proved to be true as time passed in the game. Within 51 minutes they had one two doubles games and one single game. However, after they played four more sets of doubles matches they had lost two, but winning was still in sight. 
With three more doubles matches left they won two. The players who were able to reach six points faster were Selva who played alongside Aguirre and the other two players who were able to win all of their doubles matches were sophomore Peter Nguyen who played with sophomore Jordan Tran. 
As for the team members that played singles, senior Luis Madrigal, junior Henry Boldt and Rivera were all able to beat their opponents. The best single set won by Boldt was 6-0, but that was not  the only successful match for the bulldogs. 
Playing doubles, Aguirre and Selva, who had been paired together after Duteil realized that their weaknesses were the other players strengths, were able to win two sets without allowing Channel Islands to score even once. Nguyen and Tran were also able to floor the other team, winning a set with the score 6-0.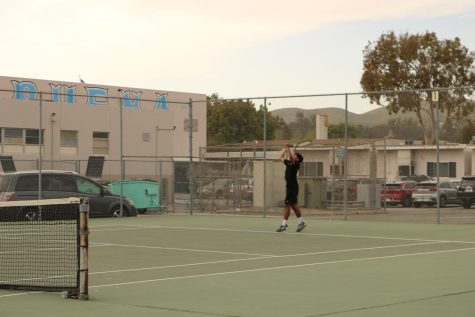 Rivera, having only been playing for about a month, was able to do what his friend and teammate Luis Madrigal called a "clean sweep" as he went head to head with the number one of Channel Islands, Klarenz Cenizal. 
Having the most wins in their individual games, Buena was able to beat Channel Islands. However, Duteil still reminded them before they left to identify something they needed to work on and come prepared to continue to succeed. 
"It's good to focus on your weaknesses because then you go into your next matches feeling more confident knowing," Rivera said. "Even if you had a bad practice, at least you know what you need to do to get better at that." 
Despite the team acknowledging their weaknesses, Duteil was glad with how the boys performed. 
"You guys all played smarter shots," Duteil said to the team as they huddled together at the end of another successful game.