Objection, Hearsay: Johnny Depp versus Amber Heard
June 14, 2022
Millions of fans have indulged themselves in the famous defamation trial of Johnny Depp versus Amber Heard. The media started following the famous couple throughout their marriage but the media spotlight intensified when Depp and Heard divorced in 2017. There was minimal insight into the extent of dysfunction in their relationship[ until Heard wrote an accusing op-ed and published it in The Washington Post.
The article was about Heard being a victim of domestic and sexual abuse. Although it was never directly stated who perpetrated the acts of violence against her,  many fans speculated that the article was written about Depp. Since these allegations spread, Depp has lost a list of sponsors and partnerships including The Pirates of the Caribbean franchise. 
This is when followers started to closely watch the ex-couple as they battle in court after
Depp sued Heard for defamation, stating that the op-ed written by Heard was false and ruined his career and reputation. During the UK trial a judge, rather than a jury, ruled that the op-ed was not defamation and found Heard not guilty. 
Depp's frustration was not left in the UK, because in 2020 Depp filed a lawsuit in the U.S for 50 million dollars on the grounds of defamation. Heard replied with a counter-suit for 100 million dollars.  
During this back and forth between divorcees, familiar faces have come out to make statements on behalf of each party in the dispute. 
Eva Green, an ex co-star of Depp, posted an Instagram photo of the two on May 19, 2022, with the caption, "I have no doubt Johnny will emerge with his good name and wonderful heart revealed to the world…" 
In the media many came out quickly to support Depp in these accusations, but some friends of Heard's rushed to her support as well. 
Julia Fox, a co-star to Heard from the set "Pineapple Express", commented on Instagram that, "You need to have power to be able to abuse it. She was 25. He clearly was always more powerful including physically and financially." 
The combat between sides grabbed more public attention, making more of the public invested in the outcome. 
On April 11, 2022 the defamation trial began a weeks-long journey. Fans were glued to their YouTube channels, prepared to watch the relationship unravel.
"
And six years later, the jury gave me my life back."
— American actor, Johnny Depp
"At first I was [un]interested but then I saw a video of Amber [possibly] doing coke in the courtroom," Sophomore Jazmin Paramo said. 
That was part of the interest for viewers, finding hints and matching up stories. 
"After hearing stories and how they were so discombobulated, I guess she [Heard] could not keep her story straight," Paramo said. 
The public watched the trial closely, even cosmetic companies that were mentioned, Milani Cosmetics, made a video exposing Heard's claim was not accurate. 
Part of Heard's claim was that she used a makeup product, a Milani color corrector, to cover bruises and injuries, reasoning that is why there are not many photos of her with visible injuries. 
But, she claimed she started to use this product during her marriage which ended in 2016, but the company came out to say the product was released in 2017. 
Watchers went wild to find more evidence  to prove both sides wrong, this added to the chaos over social media. Fans created videos, clips, and memes about the trial.  
"I do not think it is anyone's place to take a court case like it is some media event," Paramo said. "That is someone's personal life and the Tiktoks people are making, are disrespectful." 
After seven weeks of trials, the two celebrities had put their speculated truths into the air. It was time for the jury to decide whether Amber Heard and Johnny Depp were guilty of defamation. 
The jury found that Amber Heard was guilty of defamation due to three statements in her op-ed. Depp was found guilty on one count of defamation from a statement his lawyer made.  
Heard was given two million dollars in compensatory damages and was given no money for punitive damages. 
Depp was awarded ten million dollars in compensatory damages and five million dollars in punitive damages.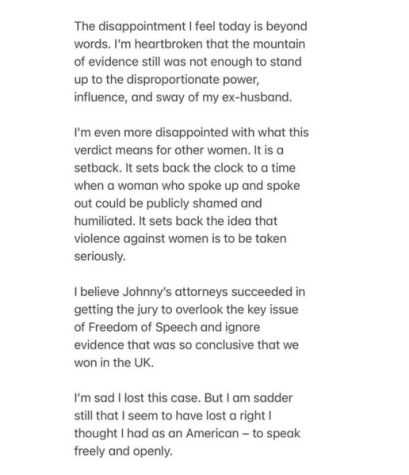 Both went on social media to make statements about the case, Depp posting to Instagram that the jury gave him his life back.
"False, very serious and criminal allegations were levied at me via the media, which triggered an endless barrage of hateful content…" Depp stated on Instagram. "And six years later, the jury gave me my life back. I am truly humbled." 
Heard took to Instagram to express her frustration and fears, claiming Depp's team won at making the jury overlook Freedom of Speech. 
"I am sad I lost this case. But I am more sad still that I have seem to have lost a right I thought I had as an American – to speak freely and openly," Heard said.