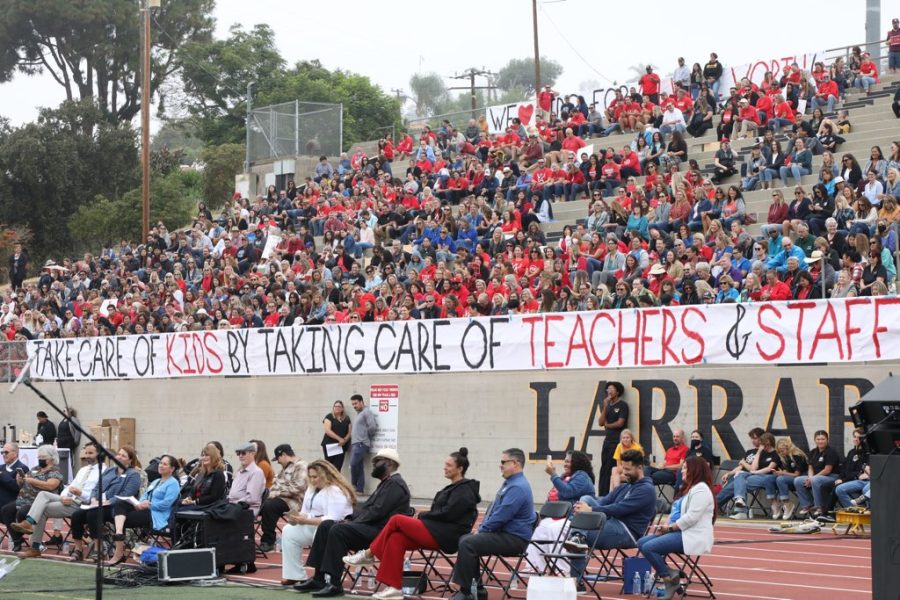 VUSD district officials, teachers union at odds over salary for new contract
September 28, 2022
Ventura Unified School District's teacher contract has expired, leaving a conflict over salary increases in its wake, as teachers are asking for a 12.84% increase while the district is offering a 1% increase with a 4% one-time bonus. The current contract has been in effect since 2018, and with its expiration has come the negotiation of a replacement, but tensions have arisen regarding these salary increases for VUSD staff. 
The 12.84% teachers are asking for comes from a budget increase the school district received this year from the state. The district was granted a 6.57% increase for the Cost of Living Adjustment (COLA) and an original 6.28% increase for Local Control Funding Formula (LCFF) for a total increase of 12.84% across the budget. Since original negotiations, the LCFF has been changed to 6.7% for a total of 13.27%.
The distance between VUSD's offer and the teachers request has sparked conflict between the two parties. Teachers feel that the 1% is reflective of how much the district thinks their hard work and sacrifice is worth. The timing of this conflict, right after two and a half years of teachers adapting to COVID and remote learning, has made the lack of appreciation disheartening for some teachers.
"When the district is really pushing for social and emotional learning for students, we feel like they need to also pay attention to the social and emotional health of their employees," VUEA Vice President Sebastien DeClerck said.
According to DeClerck teachers are feeling "demoralized" so they have taken to various forms of expressing their frustration. It started at the annual  "Celebrate" event at the start of the 2022-2023 school year as teachers held their applause and became, what DeClerck described as, "disruptive" during district representatives speeches. Teachers have also begun their red T-shirt campaign in which they wear the teachers union color, red, on Fridays. Mass amounts of red postcards have also been delivered to district representatives' mail boxes.
"
I think that we are in a long distance relationship between the district office and what it is like to be in a classroom."
— VUEA president, Dan Nelson
According to the VUSD Negotiations page, the reason salary increase demands are being denied is because the next three years of funding and budget needs to be taken into account in the planning. VUSD's budget is decided by enrollment and attendance. With the past few years of declining enrollment, the budget is estimated to drop by $7.4 million within the next three years.
According to an unknown author of VUEA's negotiations website  "I do not  think VUSD started with a low offer to insult us, or to start the domino effect of good people leaving VUSD. I believe VUSD is facing uncertainty with declining enrollment and made the offer based on the fear of uncertainty."
They also reported that they are limiting salary increases because along with only one other unnamed district in Ventura County, they do not require teachers to contribute to their own health benefits. It is paid for entirely out of the Districts budget and is separate from teachers salaries.
The District has declined to give any further statement and negotiations have been postponed until Sept. 30. However on Sept. 13 a red sea of approximately 200 teachers filtered into the VUSD office to stand up for their cause at the Districts Board meeting. This meeting opened the floor to students and teachers to speak directly to representatives while the board was not allowed to respond.
VUEA president Dan Nelson's comments highlighted the irony of teachers working in a city that they can no longer afford to live in, adding that they are now being forced to move to different cities and make long commutes to get to work in the morning.
"You are putting us in a long distance relationship," Nelson said. "…and I think that we are in a long distance relationship between the district office and what it is like to be in a classroom."
There have been beginnings of discussion as to whether or not the teachers union will go on strike over this issue, but that will not happen any time soon. There are a series of requirements set by the state of California that have to be met in order for the union to legally be allowed to initiate a strike which may take months to achieve. According to English teacher Andrew Coates, there is also still hope of understanding without a strike being necessary.
"I saw a lot of teachers from around the district show up ready to fight for what we deserve," Coates said, "…I was more heartened than I was disheartened today."