James Pham Creates Own Brand Through "jomczn" Instagram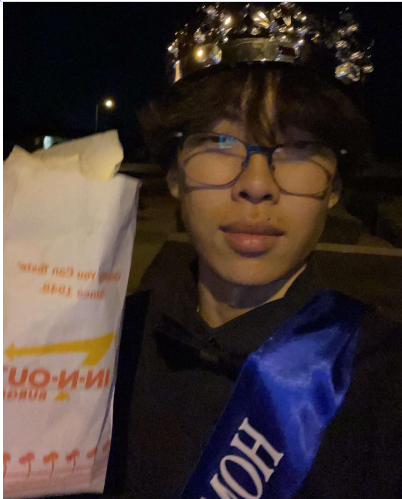 With his shaggy hair, baggy jeans, and generally quiet demeanor, Senior James "Joms" Pham does not seem like he would want the attention of the world. Pham, however, is a natural entertainer, social media influencer, and immediately lights up any room he enters.
The story behind the moniker is that when Pham was in fourth grade, to separate the two Jameses in his class, his teacher put her own spin on the pronunciation of his name which ultimately developed into the pseudonym he is known as today by peers and on social media.
According to Pham, one of his biggest achievements is the creation of his Instagram account "jomczn" —pronounced "jom season"—and its accompanying videos. These videos feature a plethora of songs and Buena students. Pham's videos are unique and filmed spontaneously, showing the events that transpire in his daily life
"It's a compilation of the good times," Pham said. He was inspired to collect these memories by following in others footsteps.
"I watched a lot of Youtubers' vlog and other videos, and I found out you can get a fisheye for $1.35, [so I] thought, 'why not?'" Pham said. Where he purchased his fisheye will not be shared, as per his request.
"
"It's a compilation of the good times,"
— James Pham
His favorite part of content creation is the reactions he receives from people seeing themselves and people they recognize in his videos. He likes to feature his friends along with outside people to include a wide variety and round out his videos.
To create a video, he first decides to start filming "off the dome", off the top of his head, letting the situation dictate what the video will be about. He then puts together the clips, picking out the most action filled moments. Finally, he selects the music.
"That's the longest thing," Pham said. "It literally takes days."
The end result is worth it though, published to his Instagram for the public to experience. Pham currently has 17 videos up, but plans on making more soon.
Pham is not sure what his plans for the future are, but he is planning to continue his passion project.
"I do not know how long I am going to keep making these videos, but hopefully for a long time, well into my life," Pham said.