If I die in a shooting leave my body at Congress
June 8, 2023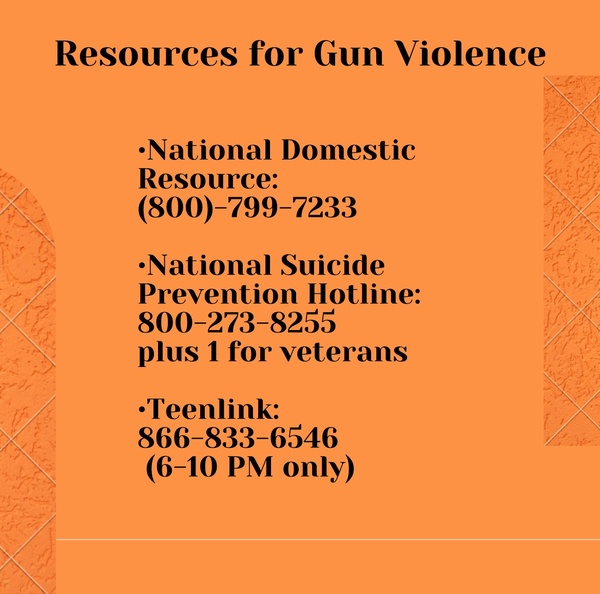 Six months into 2023 there have been 275 mass shootings in the US, that equates to about 45 shootings a month and by May 2,  2023, there were already nearly 14,000 people killed by gun violence. 
With mass shootings on the rise, it is safe to say everyone in America is affected by gun violence but  it is unfair to not acknowledge children are at the highest risk. In fact, firearms are the leading cause of death for children and teens.
Firearms continue to be debated in today's society due to the large disagreement over the Second Amendment, where it is stated, the right to bear arms as a constitutional right. Though firearms can be used for self-defense and safety, it is clear that is not the primary use today. In 2019,  there were 417 mass shootings in comparison to 2022 where there were 647 mass shootings, these statistics continue to progress at a deadly, exponential rate.
 Though  the right to carry a firearm is legal, it should not still be an active part of everyday society, especially after we have lost thousands of lives. The newest generations, Generation Z and Generation Alpha, are growing up in a world where it is normal for us to have this constant fear of a shooting. Children are the most targeted and attacked by guns, children are killed the most, and they still are legally required to show up to school, even though there have been a mass shooting almost everyday in 2023. The need for gun control is no longer avoidable nor should it still be a debate.  We are debating children's safety. We are debating children's lives.
With firearms easily accessible, children are not safe at school. In Richmond Virginia, students and family were gathered to celebrate their graduation ceremony. An innocent, happy day turned into a nightmare when shots were fired. Two people killed and five injured, this is just one example of how threatening this country's lack of attention to firearms is becoming. 
At this point in our society, it is insulting to see politicians argue over whether or not this country needs more gun control.  Representative Marjorie Taylor Greene is a great example of how some representatives and law makers are insensitive and lack knowledge on shootings. 
After an elementary school shooting in Nashville, Tennessee, Rep. Marjorie Taylor Greene Tweeted out  "School shootings should NEVER happen and will end immediately when our nation's children are defended the same way Joe Biden is by Good Guys with Guns."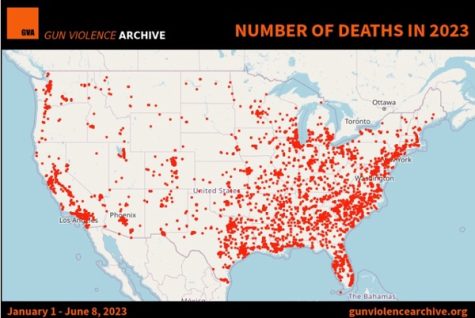 She then continues to blame the Biden administration for the "Gun Free Zone Law" for schools, which is completely inaccurate. The law was proposed in 1990 by the Ronald Regean administration. 
Children are the most affected by mass shootings, they are the next generation to step into the shoes of government officials, teachers, parents, and more. Protecting us should be America's number one priority but, unfortunately some state officials still have their focus on unimportant matters.
Ron DeSantis, the Governor of Florida, continues to spend his attention on Drag Show Readings to minors when the state he represents has had 15 shootings by May 30. 2023.  Instead of focusing his energy to help restrict and regulate guns to make the state safer, he recently passed a law allowing any Florida citizen to carry a loaded, and concealed gun without training or background check. 
On the Apple TV Television show, The problem with Jon Stewart, Stewart interviews DeSantis. The conversation starts with them discussing the opinions on drag show readings and then Stewart questions DeSantis' priorities in protecting children. 
"What is the leading cause of death amongst children in the country? And it is not drag show readings. It's firearms, more than cancer, more than car accidents. And what you are telling me is, you don't mind infringing free speech, to protect children from this amorphous thing [drag readings to children]  that you think of. But when it comes to children who have died, you don't give a flying [f***] to stop that because that shall not be infringed. That is hypocrisy at the highest order" 
There is no one solution to solve these tragedies and it is understandable that it is a difficult task to overturn a constitutional right, especially when there are such differing views. But difficulty should not stop lawmakers from saving the generations to come, from not only the trauma of witnessing such events but from death. At this point, there is no time for "thoughts and prayers." Children are dying, teachers are risking their lives by teaching and innocent citizens can die at any moment. The time to act and to change is now, there should be no debate on a child's life.