Harry's House Tour: Best Moments of Harry Styles' New Album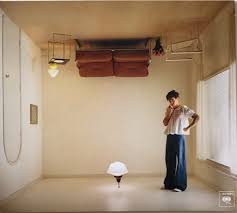 Harry Styles' third and newest album Harry's House is taking the world by storm with every song on the album debuting in the top 30 of Billboard's Hot 100. Four of  the songs charted in the top ten, a feat only ever accomplished by Styles and esteemed British boy band, The Beatles. Despite the critical acclaim each song has gained, there will always be the ones that people feel a specific connection to. Those songs, for me, are Matilda, Keep Driving, And As it Was.
Matilda
Matilda has been consistently described by fans on social media as a "warm hug" since the moment it came out and these claims could not be more true. It is a heart wrenching guitar ballad addressing a woman who is grappling with the guilt of moving on and leaving behind a family who mistreated her. Styles creates a safe and welcoming environment for the listener with soft instrumental and lyrics filled with affirming permission to allow yourself the gift of letting go. All under the pretense of what someone might want to say to Matilda from the Roald Dahl novel Matilda, after she has grown up.
"
You can throw a party full of everyone you know and not invite your family 'cause they never showed you love, you don't have to be sorry for leaving and growing up"
What was originally a way for Styles to communicate to a close friend of his that he had heard them in their struggles, has now become a beacon of hope in many people's lives. This song deeply resonated with so many people from so many different stories that Styles himself declared to his audience at his New York One Night Only show, "If there is anyone in the audience who feels like this applies to them, it does. This is for you."
Keep Driving 
Keep Driving is the kind of song whose meaning could be discussed and dissected forever. In order to fully understand the complexities of what seems, at first glance, like a meaningless song, you need to look at how Styles himself has described his life. Keep Driving is an ode to toxic positivity. 
Styles explained in an interview for Apple Music with Zane Lowe that he feels like being quarantined throughout 2020 was the first time he got to stop moving since he moved across the ocean at the age of 16. Before this opportunity he felt like his life was passing him by too quickly for him to keep up with. 
For me, that is what this song symbolizes. The verses are formatted to sound like Styles is listing off a highlight reel without really expanding on what any of the things he mentions mean, or how they connect. 
"
Black-and-white film camera, yellow sunglasses, ash tray, swimming pool, hot wax, jump off the roof"
— Harry Styles in Keep Driving
Styles is showing the listener how disorienting it was for him to have been experiencing his life through snippets as it flew by him. He paints a beautiful and upbeat picture by referencing things that typically would be perceived as happy, but the picture is jumbled and blurry.
The chorus is where we circle back to the idea of toxic positivity. It opens with the lyric "A small concern with how the engine sounds". This continues the extended metaphor throughout this song in which Styles compares himself to the car, the thing carrying him through this montage of his life. To say that there is a concern with the object that is powering this car, is to say that there is something Styles can feel is deeply wrong within himself. Something is noticeably affecting his ability to continue. Yet, his response to this issue is to ask "Should we just keep driving?"
He is actively avoiding the struggles he is facing and forcing himself to just keep going.
As it Was
The lead single off of Harry's House, As it Was, debuted Mar. 31, 2022 and has since spent four consecutive weeks at the number one spot of Billboard Hot 100.
It features the upbeat 80's pop sound that seems to be a staple throughout this album. However, upon further inspection, when you pull back the layers of drums and sparkly jumpsuits, As it Was has arguably some of the most haunting lyrics Styles has ever written. So devastating, in fact, that in that same interview with Lowe, Styles refers to the original recording of As it Was on piano as a "death march."
The most blatant display of that sentiment comes when Styles takes on the point of view of someone else telling him, "Harry You're no good alone, why are you sitting at home on the floor?"
The irony here is that this person is openly reaching out to check on Styles, while directly afterwards he goes on to say, "ringing the bell and nobody's coming to help" which feels like a reference to feeling alone whatever struggle is being referenced. 
Loneliness is a concept very commonly mentioned throughout this song. For example, in the opening verse Styles says "I want you to hold out the palm of your hand…seems you cannot be replaced, and I'm the one who will stay." In which he's expressing his desire for support while acknowledging that the only person he feels like he has, is himself.