The Wellness Center is an influential part of student life here at Buena High School. Whether it be aiding  students with mental health needs, or hosting interactive activities like their most recent project tote bag painting, the wellness peers are always available to lend a helping hand. However, there are a few other supports the Wellness Center offers in our Buena Community that you might not be aware of. 
Student Workshops
Student workshops help the Buena community by spreading awareness to taboo topics and helping students thrive in the midst of the struggles of every day like. In these workshops, the wellness center shares information on an array of topics, such as depression, family issues, substance abuse, stress management, and more. They bring in guest speakers from different organizations within Ventura. 
All students are welcome to attend. Students can sign up in the wellness center and most workshops are held during lunch. 
¨For me, the most important thing is to reach at least one student who is genuinely struggling," Wellness adviser Tatum Maciel said, " I hope of course that everybody gets something out of them.¨
 You can get more information on these meetings by looking on the BHS Wellness Center social media or from posters around the campus.
Parent Workshops
Workshops are not only held for students, but parents too. The center hosts parent workshops informing participants on topics like positive parenting, motivation for both parents and children, and learning how to identify drug misuse in children.
Even though the center is yet to hold one this year, last year there were many educational meetings held tailored to parents.
While at the student meetings, the attendance is around 20 teens, at the parent meetings, the attendance is sadly very low. Since the meetings are only held around mid-day, many parents are too busy with work and other priorities to show.
¨ I know last year the parent participation was pretty low, so were trying to raise awareness towards the meetings,¨ Maciel said 
But as a compromise, this year the center is hoping to start offering online options for those busier families. 
At the center of all of these events and programs are the student wellness peers. The wellness peers are positive and helpful when it comes to teens in need. While they are still teenagers, they are  acquiring a multitude of mental health and counseling tips from their own training programs which they are passing on to their peers. 
"Everyone that is a wellness peer is really nice and welcoming," Segovia said,  "I've met a lot of new people and we get to learn about a lot of different forms of mental health and as well as how to treat people if they come in with problems."  
The wellness peers are bringing positivity towards a heavy topic and are amazing role models for students all over campus to go to when in need of confidentiality, comfort, and advice.
Hygiene Closet
"Last year we put together a care closet and it has a bunch of hygiene products. And a lot of people don't even know about the Wellness Center, let alone the care closet," Segovia said. "So we have a bunch of products like tampons or anything and I just think more people should know about it." 
After walking through the doors in the Wellness Center, you will come across a shelf that is stocked with lots of essentials like tampons, deodorant, shampoo, conditioner, toothbrushes, tooth paste, face wash, and much more. 
In the times that it does start to get empty, lots of the Wellness Peers families will bring in the items in need as well as the Rotary Club of Ventura. While it is located in the Wellness Center, the Interact Club were the ones who really put the closet into action 
¨ It's hard when you come from such a blessed life to realize that there are a lot of kids that we walk by every single day that
"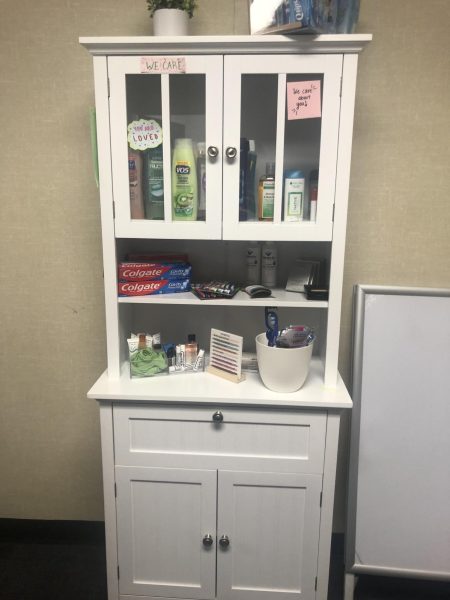 It's hard when you come from such a blessed life to realize that there are a lot of kids that we walk by every single day that dont have enough money for products like deodorant..¨ Maciel said.

— Tatum Maciel

have enough money for products like deodorant..¨ Maciel said.

 The Wellness Center is a great place for all, students and parents alike, to come and talk about various important topics and get help. 

"For those who do know about it [The Wellness Center], they understand that it is a safe space and anyone can go in there, even if you don't need help, because it's just a really welcoming center," Segovia said "And if you do (need help), the doors are always open."