How to elevate your capsule wardrobe this winter
Rachel Zoe once said, ¨Style is a way to say who you are without having to speak.¨ Fashion serves as a creative outlet for many individuals. Whether it be brainstorming your next outfit, or designing your own clothing, fashion plays an exciting role in our day to day lives. 
In any winter wardrobe, the basics may include weather practical items such as cozy knitwear, jackets, boots, tee shirts, jeans, leggings, scarfs, and so much more. Although many of these items are considered basics for your wardrobe, that is not to say that you should be limited to them. Creating your own personal style is arguably one of the most important aspects of expressing your personality and demonstrating your own creativity. An example of this is shown through expression of color, style of clothing and simply how you wear something. This is often seen in off duty model looks where the outfit itself is incredibly simple yet the confidence is what makes it stand out. 
With a capsule wardrobe there are endless possibilities. A capsule wardrobe is a wardrobe typically consisting of a small amount of clothing, usually classic pieces, that encourage you to create a variety of combinations with items you already own rather than buying more. It encourages more intentional shopping, which can lead to an increase in sustainability.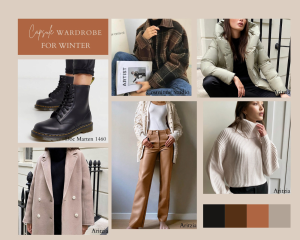 During the colder months, sweaters and jackets become staple pieces in our closets. Turtlenecks and knit sweaters are a winter essential. Knitwear has been vastly worn by both men, women, and children since the 1920's and continues to be popular today. Some of the most common knitwear pieces include cardigans, the classic light and buildable over wear, and turtlenecks which have been interpreted in many different ways. From cropped sweaters to extremely distressed clothing and embroidered knits, the variety of winter fashion nowadays is abundant. 
A unique layering tip for winter is utilizing your summer clothing throughout the season, this can simply mean layering under a dress or skirt, or adding an oversized coat to keep you warm. You can style this up or down depending on the occasion. A different, easier way to have a seemingly matching and put together outfit would be color blocking, this can be achieved by using two solid colors to sandwich a different color or pattern.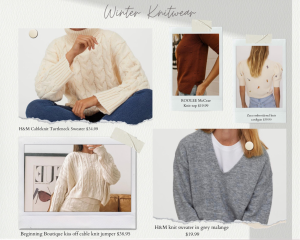 The variety of jacket options are infinite. There are a variety of styles ranging from the popular puffer jacket to classic pleated coat. Jean jackets and bomber jackets have also become increasingly popular throughout the recent years. Depending on the weather in your particular area, these jacket options can be modified. Ventura County does not normally experience extreme winter weather, although the temperatures drop during fall and winter so utilizing these different coat options will be useful. 
Although the classic jean is on rotation throughout the year, trendier pant options such as leather bottoms and wide leg pants have become increasingly popular among people of all ages this fall season. According to a 2020 Vogue article, "The biggest pant trends for Fall Winter 2020 2021: 10 hip styles," low-waisted jeans and wide-leg pants have made quite a comeback as well. Many trendy styles today are either variations or exact resemblances of 1990's and early 2000's fashion, which has become a recurring theme in the fashion world.  
The classics of winter fashion will probably remain, but newer, trendy fashion is definitely popular within the younger generation. For example, some popular winter trends include animal print patterns, leather clothing, sherpa lined jackets, plaid, and 90's inspired fashion. 
According to a 2020 Vogue article, "Influencers are the retailers of the 2020s." Celebrities have been endorsing products since the 1920's although the rise of influencers have been increasingly popular in recent years. Today, celebrities and influencers are the trendsetters among the youth and at this rate will continue to be. 
Whether you create various looks from a capsule wardrobe or create your own style, fashion is about expressing yourself and feeling confident in your own skin. Marc Jacobs once said, ¨Clothes mean nothing until someone lives in them.¨