Swimmers' passion renewed as practices return following COVID19 closures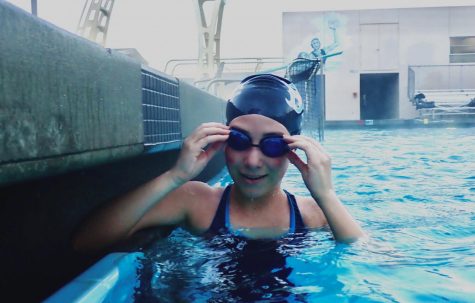 After cancelled seasons in 2020, due to COVID-19 closures, the boys and girls swim teams are ready to dive back into the pool for their upcoming events making  them one of the first high school sports to start back up after many postponed meets. 
Head swim coach Scott Manninen has confirmed that the swim teams are back in the pool for morning practices. However COVID-19 guidelines, placed by the CDC, are being enforced and require all swimmers to be six feet apart in and outside of the pool. The CDC also calls for a screening before each practice and masks must be worn when outside of the pool.
This early on, Manninen has already begun to see true potential from new swimmers. A freshman girl, Morgan Velasco, has just joined and he can see "she is the reason we coach."
Coming back for their sophomore year, are the "Fabulous Freshman", as Manninen previously named them, who are believed to be "the future of swim." This trio is made up of three young girls, all who made varsity their freshman year. 
Included in this group of these swimmers are Mikayla Salas, Grabielle Swaim, and Katharyn Salazar. Throughout the years participating in swimming, Salazar has realized that "in life you are competing with no one but yourself".
 Adding on to the lessons learned with swimming, Swaim has mentions "it is important to push yourself to reach your next goals." Both these lessons, as Swaim and Salazar mentioned, are applicable to both athletics and life.
This season is clearly different from the previous years, not only because of guidelines, but because of the shortened schedule for season.
Senior Sam Manizza recognizes the changes in this years season and is determined to still put in her full effort. Since it is her last year of high school, she is working to "leave a team that wants to work hard for what they want to accomplish.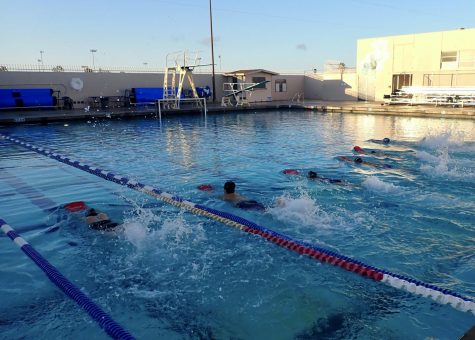 Assistant coach Amanda Graves is described as a "phenomenal swimmer" by Manninen and is dedicated to setting an example for the team.
She hopes to teach swimmers"the mental discipline to become a student of technique and to constantly focus on your strokes, along with the physical discipline to push past yourself through the pain [as well as] dedication to self-improvement, respect, integrity, work ethic, and the importance of exercise in life balance," Graves said. 
As many students have experienced, motivation during these unpredictable times is not easy to maintain. 
To keep motivated at any time senior and varsity swimmer Brandon Santos asks that his teammates remember that "at the end of the day the work you put in today will carry into tomorrow." 
He carries this thought with him at all times, as he trains to break the record for the 100 meter freestyle and the 100 meter backstroke.
Salas encourages the younger, inexperienced swimmers to keep practicing because "even if you aren't the best at something, you matter to the team."