Football legend Tom Brady announces his retirement
After months of speculation, Tom Brady has confirmed his retirement after his 22 NFL season career ended with 10 Superbowl appearances, seven Superbowl wins, and over 35 records held in his NFL career. 
The 22 season Patriot quarterback announced his retirement via a post on his Instagram Feb. 1, 2022. 
"I have always believed the sport of football is an "all-in" proposition… I am not going to make that competitive commitment anymore," Brady said in his Instagram post.
Brady went goes on to say that he "loved going to battle" with his teammates on the Tampa Bay Buccaneers and "thank you" to the Buccaneers' fans. Within all of his thank you's, he concludes by thanking his family and friends for the "support" and "love" that they have given him.
Brady only led the Buccaneers to the second round of playoffs where they fell to the Los Angeles Rams, who are heading to the Super Bowl, Sunday, Feb. 13. Brady did however lead the Buccaneer's to winning Super Bowl LV in 2021. 
Brady attended the University of Michigan where he set about 18 records including the longest passing play of Michigan's 1998 season. He was then signed to the NFL where he began his NFL career with the New England Patriots, during which of his 20 seasons, he played in nine Super Bowls, having won six of them.
Many would argue that Tom Brady's retirement marks the end of a football era. In the last ten years, big names in the NFL have retired, a few amongst them including Saints quarterback Drew Brees in 2021 and Bronco quarterback Peyton Manning in 2016. Their retirement allows for the new generation of players to rise to the greats such as Patrick Mahomes, Lamar Jackson, and Joe Burrow. 
"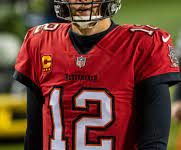 Don't rely on others. You'll have great support from a lot of people, still. But, no one's going to hand you anything."
— Tom Brady