Russian sanctions impact U.S. economy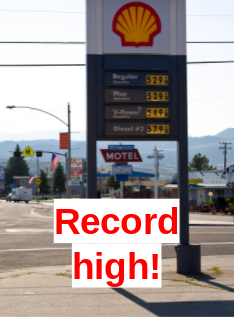 The world put sanctions on Russia with the hope to make Russia withdraw their troops from Ukraine. Russia invaded Ukraine,  Feb. 20. These sanctions were supposed to bring an early end  to the war. However, these efforts have been largely unsuccessful as the sanctions have not stopped Russia while it has negatively effected their economy.
These sanctions have impacted the American economy as well because 17% of the world consumes Russian oil, the United States included.  Russia also produces 25% of the world's wheat. As a result of these sanctions, countries around the world  have fewer resources available to them which drives prices up.  Already in the United States, gas prices have risen  and the biggest effect it has is on California making the price on average  $5.740. When you compare this price to a year ago at this time, consumers were only paying on average $3.85. It's expected the prices will grow over time as the US struggles to find other suppliers. 
To relieve burden on the oil market and drive prices back down, President Joe Biden asked Saudi Arabia to increase their oil production to fill in Russia oils gap, but they rejected the offer in an effort to stick to a previously agreed upon limit of gas production decided by the Organization of Petroleum Exporting Countries (OPEC). Another thing is that Joe Biden stopped the sale of U.S. weapons, telling Saudi Arabia to stop killing civilians with their weapons.
"
So the question we have to ask is, are we willing to put up with some financial difficulties rather than send our daughters and sons or mothers and fathers . .  to go fight and possibly die in a war with Russia
— Mike Gianelli
 "Plus the Crown Prince who's the next ruler there, he oversaw the murder of Jamal Khashoggi, an American Journalist,"  History teacher Mike Gianelli said. 
Even though there have been many attempts to lower the gas prices, the gas prices are still almost 5 or 6 dollars. Gianelli thinks the gas prices might get worse over time. 
"Crude oil prices have determined at least half of the price of each gallon of gas over the last decade." Oil prices went down but gas prices went up. They are tied together but not directly."
Gianelli said. "It takes awhile for gas prices to catch up to oil prices. They go up fast and then come down slower. Either way oil companies are getting rich."
Overall, this is not ending soon.  Gas prices are going to get higher over time if we still cannot find a supplier, or an end to the war. Gas prices will not be the only thing the dial rises. We are expecting wheat and food products that surround what we eat we'll go up In the coming weeks and with inflation still have a big effect on our economy now being 4.7%. This could grow to something worse over time but we won't know.
 "So the question we have to ask is, are we willing to put up with some financial difficulties rather than send our daughters and sons or mothers and fathers . .  to go fight and possibly die in a war with Russia" Gianelli said.  "This is going to be rough and the prices will still go up, but this has allowed us to be more focus on green energy."