On Aug. 24, the gymnasium filled with students and families, their cheers echoed as the two teams lined up. It was the rivalry game for girls volleyball and it would be one of their toughest yet, but the determination shown on the court promised a strong season.
"The ending was frustrating, we did not have the outcome we hoped for," junior Halleigh Paquette said. "But as a team, we were still there for each other, even through a tough loss."
The first match was a challenge for the girls as the ball went out of bounds several times, awarding  points to Ventura. With the help of Paquette, who had leaped across the floor for quick saves and passes they were able to put up a fight. Despite their best efforts Ventura ultimately won the first match after reaching 25 points, and Buena with 16.
"
We were strong before, but this experience made us even stronger as a team,"
— junior Halleigh Paquette
While match two was similar, Buena demonstrated their resilience as they continued to give their all. Sweat shined on their skin and their sneakers squeaked against the floor when they ran and hurdled across the floor. Some players, like senior Shai Daniels, ended up tumbling across the court for swift rescues in an attempt to make a comeback. 
"It gets hard to stay composed but I stayed consistent and tried to stay positive," Daniels said. 
The second match ended with Ventura at 25 points and Buena with 14, but this would not deter Buena. The girls went into the third match with renewed strength, cheering each other on, team morale on the rise. They were not the only ones cheering that night, students in the stands also showed their support with signs and chants.
For the beginning of the third match, the two teams were neck and neck, points were scored left and right. It was a fierce match that showed both strengths and weaknesses from the girls. Their determination and talent were clear, but this time it was not enough.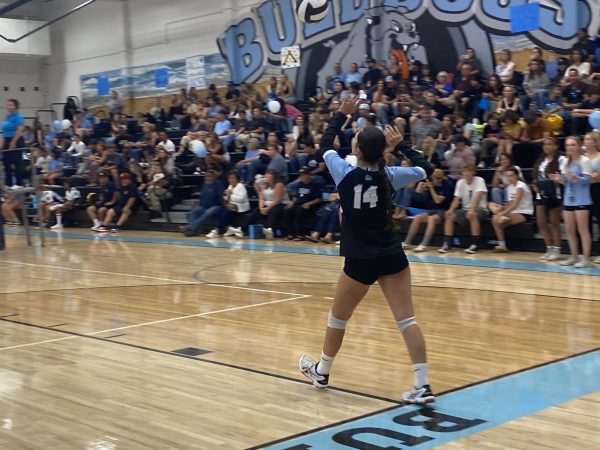 The night ended with Ventura taking the win, 25 points for the third time, Buena with 13. But what the scoreboard did not show was the teamwork and dedication each player possessed throughout the game. The girls showed they did not give up, and they continued to play hard in practices and games. Ventura won this time but Buena is working hard for the next rival game. 
"We were strong before, but this experience made us even stronger as a team," Paquette said. "We will be back."