Tatum Maciel Counsels, Coaches Students on Right Path
It's 2009 and the Buena Gymnasium court is set, Varsity Basketball player number 33, Tatum Maciel, is practicing shooting baskets through the red ringed hoop. Flashforward to 2022, more goals are accomplished by Maciel as she works in her office counseling students with any problems they have, covering the last names CES through GIB.
To arrive where she is today, Maciel attended many colleges including Santa Barbara City College from 2013-2014 with a major in psychology and social behaviors. While attending SBCC, Maciel played on the women's basketball team and later transferred to Ventura College in 2014-2016 to play basketball with her older sister, Carly Maciel.
"It was so much fun, the best years of my life. I ended up joining a sorority to make friends because I was a transfer student," Maciel said. "I was involved in intramural sports because I still liked playing and flag football was my favorite. I played flag football here for the powderpuff team, that was a lot of fun."
After attending VC, Maciel transferred to the University of California Irvine from 2016-2018 to and earned her Bachelor of Arts. In 2020, Maciel completed her Pupil Personality Service Credential with fellow counselor Natasha Hillis. 
"
Maciel is extremely hard-working. I think she is very friendly, approachable, and open. From what I've observed, students have had a really good connection with her. We've been pleased and thrilled that she's a member of our team.
— Natasha Hillis
From 2021-2022, Maciel worked as a school counselor at Junipero Serra Elementary School. This year Maciel loves fennec foxes and working with students to figure out their schedules, find out what they want to do for their career, help them research getting a degree, going to trade school, or just helping students figure out their passions. 
"She is very kind, approachable and understanding," Junior Jazmin Garcia said. "She had given me advice on how to complete assignments or how to keep up with my grades."
Maciel has been influenced by many people including Hillis and her father, Marty Maciel, who worked as a biology teacher and wrestling coach for 35 years at Newbury Park High School and is now a track and cross-country coach at Hunter College.
"I want to be able to positively impact students' lives the way Hillis and the teachers I had at one point, impact mine," Maciel said. "I want students to be able to think of me as someone that they can come to no matter what or no matter what the issue is."
Leave a Comment
About the Contributor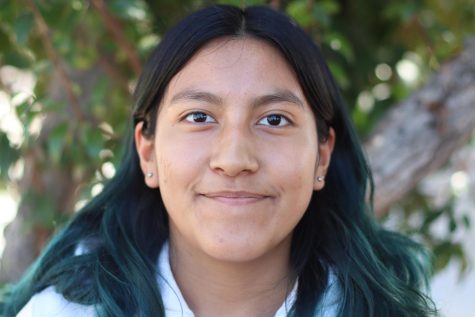 Cristal Hernandez, Staff Writer
Cristal Hernandez is a senior at BHS and in her first year at Buena Speaks. She loves to listen to music while studying, draw on her free time, and help...