An All-State musical prodigy wanders among us
Takaya gets accepted into the All-State Honor Band program
As a fellow Buena student, one wouldn't expect Junior Noel Takaya to be among the top musicians in California. While taking multiple AP classes, she still makes time to practice and play music, and recently her hard work is starting to pay off. 
Takaya recently discovered her passion for music and her desire to pursue a career in music. However, music has always been a big part of her life.
"I have been involved with music basically my entire life," Takaya said. "Because both my parents are musical. My mom played the piano for a while in high school and my dad played the alto saxophone. I think it was third grade when I was about eight years old, I started piano lessons, and did that up until high school. Then in sixth grade, I started beginning band."
Takaya's main instrument is the oboe, a woodwind instrument. Apart from that, she also knows how to play the piano and alto saxophone. Recently, she just started picking up the ukulele. 
"I started playing the alto saxophone in Beginning Band, but then I was like, this is kind of like, easy, and it got boring," Takaya said. "So I want to play something hard. Since oboe is considered to be one of the harder instruments, if not, one of the hardest, I was up for the challenge."
After high school, Takaya wishes to go to a four-year university, preferably CSU Long Beach, and then get her graduate degree in music after. Her goal is to establish herself as a musician in LA, and to possibly teach, perform, and play for TV shows and movies.
Takaya has been a part of Buena's band for three years under Band Director James Rumanapp. 
"
As a student, [Noel] is one of the hardest working I've ever had," Rumanapp said. "[She's] very well-spoken for herself, an outstanding leader, very diligent too. She knows how to stick to a schedule and be responsible for herself."
— James Rumenapp
Recently, Takaya got accepted into the All-State Honor Band program, a huge conference run by the California Band Directors Association. Since his tenth year at Buena, Rumanapp has been encouraging his students to apply for the All-State Honor Band program.
 "It's very competitive and it's an excellent place for all of the musicians in the state to audition," Rumanapp said. "We're talking like 1500 kids, or more in any given year auditioning for various select spots. "It gets very selective at the top, like the top 1% of all musicians in the state, so [they're] looking for the best of the best."
Two years ago, it was Rumanapp that recommended Takaya to apply for the All-State Honor Band program. 
"It was a no-brainer," Rumanapp said. "Every time we go to a competitive festival, all the judges remark on her amazing sound and solos that she plays. Even within a full group setting she's always picked out for having just a beautiful, really beautiful sound and tone."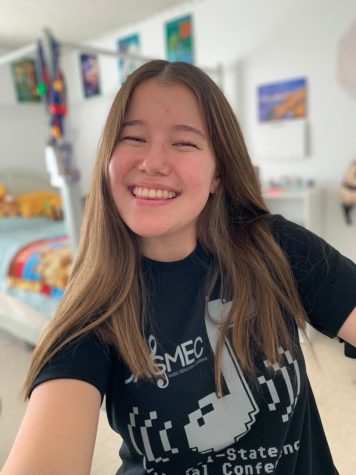 Set to perform in a couple of months at the All-State Honor Band program does not mean a sign-off for school. Takaya is currently enrolled in three Advanced Placement classes -AP Chemistry, AP Language and Composition, and AP US History- and two honors classes at Buena. As for many, distance learning has been a struggle, but Takaya has found a way to stay motivated and continue participating. 
"It's definitely been challenging," Takaya said. "After the shutdown, I realized how valuable being in person and in a school learning environment actually is. So yeah, I definitely miss it. It's impacted me a lot but now I'm getting used to it."
Takaya recently had an unweighted 4.0 GPA at the end of the first semester of the 2020-2021 school year.
"I've always kind of been academically motivated. My parents would push me to get good grades. [And] the thought of like, having like a B or a C in the class, just freaks me out," Takaya said.
To help her manage and maintain her superb grades, all while practicing for her performance for the All-State Honor Band, Takaya identified one skill set that she thinks is vital.
"For school, communication with their teachers is huge," Takaya said. "If your teacher knows who you are, and knows what kind of person you are, then you're more likely to have an easier time in class. Showing up, giving your best effort, and communicating with other people in your class, especially teachers, will make your life easier."