Marching band advocates for equal treatment, adjusts practices to COVID-19 regulations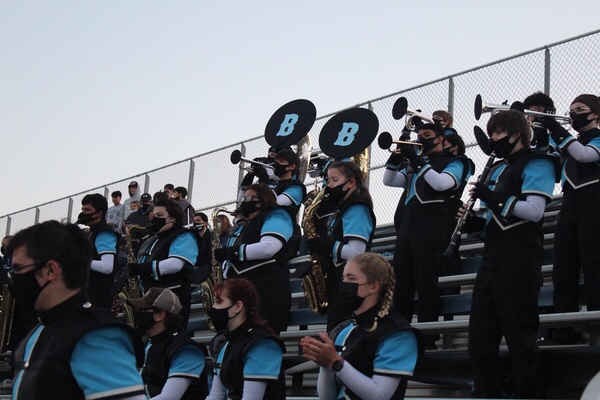 Throughout the pandemic various sports and extracurricular activities that were once available to students have been altered, postponed or cancelled. With new rules and regulations becoming a part of daily routines, Buena's marching band students have had to adjust the way they practice, perform, and compete. 
With the many challenges sports teams, clubs, bands, and extracurricular groups have encountered this year, the music program members have begun to feel less prioritized than other groups. Emma Bograd and Cadence Oerlemans were among the group of volunteer public speakers who expressed their concerns during the VUSD Board of Education meeting which took place March 23, 2021. 
"After talking with many other students we feel the board does not represent music programs as much as they do sports," said Oerlemans. "All we ask is that you advocate for all and let us play." 
Bograd expressed her similar frustrations during the board meeting, with hopes that the board would "continue to keep music in mind as an equally important activity in our schools."
"Marching band this year, like everything else, has been really different," drum captain and Buena music student council president Bograd said. "We weren't able to have a normal season and we didn't have a show."
Marching band is currently in the drumline season, meaning horn instruments are no longer a part of the band. As for practices, social distancing and changes in their normal routine have been implemented. 
"…There's this big thing about uniformity, and so we'll space out our drums evenly and so we've obviously had to make that space a lot bigger," said Bograd. "We're outside all the time, cause we can't go in buildings." 
Due to social distancing guidelines, the drumline front ensemble and the battery have not been able to gather together due to the size of the group like they previously have. During the last fall season it is estimated that 109 students are members of the marching band and about 30 students were a part of the drumline. 
Recently, marching band performed at Buena's football games after a suspension in the fall season due to COVID-19 restrictions . Social distancing standards are in place as well as new protective equipment. 
"As a marching band right now all we're doing is playing at the football games…we've been playing stan tunes and pep tunes," said Bograd. 
Although this year presented many challenges for marching band and drumline students, teachers, and coaches, new learning opportunities have begun to arise as a result. 
"We did a project where we each designed our own show…We were able to learn a lot about the designing aspect whereas normally we are just on the field learning a show," Bograd said. "It was cool to be able to step back and see the whole view because we weren't able to have a normal season and we didn't have a show." 
Despite the absence of halftime shows and competitions, fundraising for the music program has not stopped. 
"We've actually done a lot of fundraising because our two major fundraisers were cancelled because of COVID," said Bograd. "Normally we sell funnel cakes at the Ventura County fair and the Ventura County strawberry festival…those were both cancelled because of COVID, and so normally those bring in a large chunk of our budget for the year and so we've had to do a lot more smaller fundraisers this year than we've had before because we've lost those."
The music program members have participated in various fundraisers this year including selling car wash tickets, See's Candies, Marie Callender's pies, Krispy Kreme donuts, and a Snap! Raise fundraiser.