REVIEW: Raising Cane's rises up to the hype
When word of a new fast food chicken restaurant on par with Chick-Fil-A was due to open March 16, expectations for the first Raising Cane's in Ventura County were high. With my own high expectations, and after hearing all the hype about the chicken, I was surprised that overall my first experience was mediocre. After two long hours sitting in the drive through, the chicken was wet and the bread was soggy. That said, on subsequent visits, I have left  Raising Cane's more and more impressed.
Located in the heart of  Shopping at the Rose in Oxnard, Raising Cane's resides right on Rose Ave., off the 101 freeway. With a sleek exterior and a modern yet cozy interior, Raising Cane's radiates an inviting vibe like no other. All staff members are friendly and charismatic, and the smell of Raising Cane's chicken fingers lingers all around, calling you to eat them.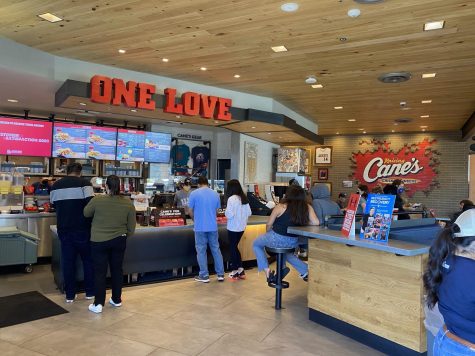 Raising Cane's boasts plenty of seating room indoors and outdoors with multiple trash cans around, sparring you of time spent looking for a trash can after you finish eating. Since Ventura County is currently in the orange tier, customers are welcome to serve themselves at the soda fountain. 
The chicken at Raising Cane's is always made with fresh chicken breast tenderloins, one of the main reasons why it is so popular. The tenderness, the seasoning, and the breading is top notch, and upon the first bite, the chicken is perfectly moist and the outside has a nice crunch. Combined with the signature Raising Cane's sauce that's made fresh everyday, and with the sesame seed pulled apart bread, it's a mouth-watering bite of greatness.
Alongside your chicken fingers, the perfect drink is required to accompany your journey of deliciousness. By far the best drink at Raising Cane's you can get with your meal is the freshly made lemonade. Raising Cane's lemonade is one of the finest I've ever had. It has the perfect balance of sweet and tangy, but doesn't leave a hard aftertaste like Chick-Fil-A lemonade does. For those who love munching on ice, the ice at Raising Cane's is perfect for that.
The menu at Raising Cane's is simple, containing six different options: The Caniac combo, the Box combo, the Three Finger combo, the Sandwich Combo, the Fids Combo, and a Tailgate option. The caniac combo is perfect for those who've had a long day but not a lot to eat, containing six quality chicken fingers, the sauce, a piece of bread, coleslaw, crinkle cut french fries, and a drink. The box combo is ideal for one who simply wishes to enjoy his food then shovel it down, containing everything in the caniac combo but with four chicken fingers instead of six, and the kids combo is for the little ones who don't have a huge appetite.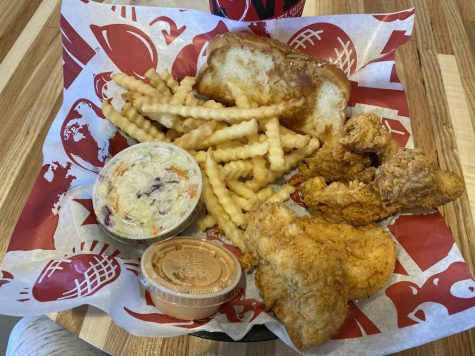 The best way to get your own Canian or box combo is to walk in and order. With multiple registers running at once, it takes no more than fifteen minutes to order, and no more than fifteen minutes to get your food. If you're lucky, you can be in and out within ten or so minutes.
Junior Breeana Griffin has had Raising Cane's numerous times and has always been left impressed.
"The first time I had Raising Cane's was about five months ago in Newport, but even then it was amazing and I thought it was way better than Chick-Fil-A," Griffin said. "Their bread is my favorite, my favorite thing to do is use the bread and make a chicken sandwich, it just takes it to another level." 
Like many on it's opening day, Griffin waited two hours in the drive-through to get her food, but said that it was worth the wait.
"Since it opened, I've gone about five times, and everytime I've been there it's always been good," Griffin said.
Since it's opening in Oxnard, Junior Brandon Rice has been to Raising Cane's over ten times. 
"The chicken at Raising Cane's is off and on, sometimes when I get it, it's perfect, but other times it will be soggy," Rice said. "On a scale of one to ten I'd give it an eight. However, I prefer Chick-Fil-A over Raising Canes."
"
Everytime I'm finished eating, I'm super sad that this meal is over."
— Breeana Griffin
Both agreed that Raising Cane's is among the top chicken restaurants there is in Ventura County.
"I would highly recommend Raising Cane's to others, especially if they like chicken," Griffin said. "Combined with the sauce, the chicken fingers are elevated beyond belief, and everytime I'm finished eating, I'm super sad that this meal is over."