Bulldog wrestlers determined to give shortened season maximum effort
Despite many sports being delayed and shortened this year, wrestling has continued to persevere through the new changes regarding practices, tournaments and CIF. With a normal season spanning from Nov. to Feb., it has been substantially shortened, considering that the season started in April 2021. 
The team continues to practice indoors for about an hour and half everyday, with mandatory COVID-19 testing happening weekly for coaches and players as well as a mask requirement in place. Although they are permitted to practice without masks when wrestling one on one. 
Due to the pandemic, the team is coached only by head coach John Smithson as they are unable to practice with multiple coaches like previous years. 
"Our coaching staff is great but with most of our coaches being walk-ons it's been a lot of team lead workouts," senior and varsity wrestler Nidal Farah said.
With about 17 active wrestlers this school year, 9 of which are on the varsity team, the team has won three out of three dual meets although two were unofficial. During the most recent match against Ventura High, Monday May 1, the final score was 46-36, although the victory ultimately went to Ventura as they scored 7-3 head to head due to forfeits. 
The team has defeated Channel Islands, Oxnard, and the Santa Paula high school wrestling teams so far this year, although they were defeated by Ventura and Rio Mesa high school.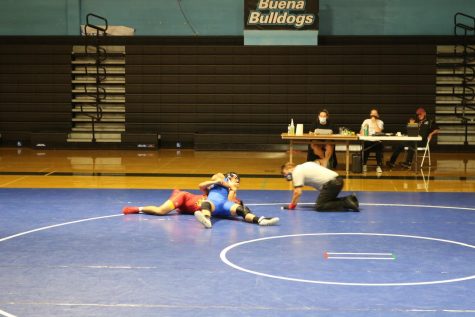 Despite the short season, the team is grateful to have the opportunity to practice and compete this year.
"Personally, I am just really happy to have a senior season," senior Jacqueline Magana-Chavez said. "After so much waiting, I really did not think we would and I know it is short, but I think I speak for everyone, especially the seniors, when I say we are ready to make the most of what we got."
With a six month delay to their season, the team has been rapidly preparing and practicing to compete to the best of their ability. 
"This season has been very different, with less time to prepare, and a very funky schedule it's been really hard on us to get prepared physically, and mentally," Farah said. "But being in this team has really been fun. It's a group of very dedicated athletes and we're all chasing a common goal of being the best we can be."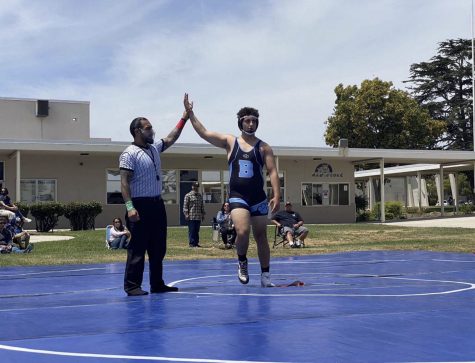 Individual CIF matches have been cancelled, although there is the possibility for team CIF duals. Overall, the team continues to persevere and dedicate themselves to being the best athletes they can be amidst the circumstances. 
"We have a very strong team of young guys after losing a few of our upper class men the way these guys have stepped up is very impressive," said Farah.