Elias Wiggins and his success at Buena
As a Buena junior who has undergone the successes and struggles of distance learning, Elias Wiggins has not let that stop him from excelling in the academic arena of his 3rd year at Buena . From Track and Cross country wins, band performances and AP classes, Wiggins is slowly leaving his mark at Buena.. 
Since the beginning of Wiggins first year of high school, Wiggins has been on an academic path to success, in his freshman year he was enrolled in all honors classes as well as music and track. Through his dedication to the sport  he has slowly made his mark as a talented track and cross country runner. 
This dedication does not just exist within the required practices but in his free time, which does not go unnoticed by his peers.
 "I admire how committed he is to running, since he runs twice a day which is insane to me" Wiggins' friend Trevor Wilkinson said. Wiggins runs 4-6 miles most mornings and weekends in an effort to better his mile-time. 
In his freshman year his one  mile time was 5:11, and his two mile time was 11:13, by his junior year he progressed to 4:35 for the one mile and 9:40 for two miles. Wiggins hopes that by his senior year his one mile will be 4:20 and two mile 9:12. His insistent motivation in these later years of his school career are in hopes to be able to gain a scholarship through running. 
Wiggins is just now starting to look into colleges, "I do think that getting into a D1 or D2 university through running would be ideal though," Wiggins said.  
However, running is not Wiggins only talent, he excels in every subject he is enrolled in, with his personal favorite being math and has a magnetic personality that has garnered him plenty of close friends.
"He is very fun to hang out with since he is so active and likes to try new things," Wilkinson said. 
In regards to his schooling, Wiggins has always enjoyed the challenge when it comes to classes.
"I've had very rigorous schedules throughout high school but junior year has been the hardest with AP Chem, AP Lang, Math 3 Honors, Wind Ensemble Honors, AP US  History, and cross country," Wiggins said. 
Although he always tries his hardest in every class, Wiggins has had a rather difficult time with Chemistry. 
"Chemistry has been my hardest class as the concepts are very hard to understand especially with distance learning," Wiggins said.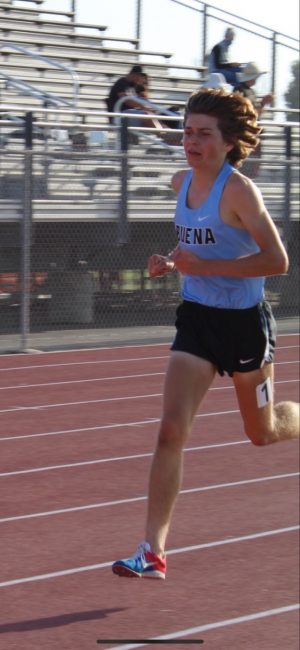 However, Wiggins will continue to persist in this class and has this advice to give to fellow students, "I think the best piece of advice I can give is to stay motivated and apply yourself. If you give your best and dedicate the time and energy for something you'll see results."
Although Wiggins has many opportunities ahead of him for a career he is still unsure of his ultimate path, but has debated the idea of going into Law. 
When asked about his dedication to school and his future, Wiggins' AP Language and composition teacher, Antoinette Perez said, "I think Elias will be successful in anything he chooses. Going into law would suit him well because he is good at building arguments, and he can be pretty persuasive at times. Maybe it's just his competitive nature, but I think law is quite fitting." 
Next year Wiggins plans to continue taking AP classes: AP Lit, AP Gov and Econ, AP Calculus AB, and AP Physics. In the meantime, Wiggins is currently thinking of ways to create new memories at Buena before graduation. 
"I haven't thought of too many things I want to do before graduation but I'm looking forward to Senior year and all that that contains. Running wise I do want to find more success by my senior year." Wiggins said.