New assistant principal Scott McNutt joins Bulldog Nation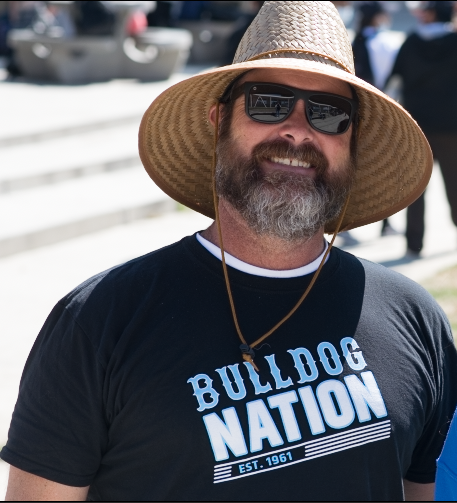 As you walked through the quad, you may have spotted the bearded man in sunglasses and a straw hat, this is Buena's new assistant principal, Dr. Scott McNutt. McNutt is working to build relationships with students and reports he has had a "great" welcome to Buena.
McNutt has a rich history in education, he spent 12 years as a guidance counselor at Oxnard high school, one year as a guidance counselor at Pacifica high school, and his most recent job was as the Dean of Students at the Ventura County Office of Education. 
Education is the only profession that he could see himself doing, he believes there is no profession other than education that is "so special."
"I'm not just trying to make money or have a good job for myself, but I'm actually getting to be a part of people's lives and a part of the community's history," McNutt said.
Upon McNutt's arrival, he loved to see the Buena atmosphere and how the teachers and staff are "focused and caring" toward students. The three words McNutt used to describe Buena upon arriving are kind, spirited, and welcoming. 
"I always pictured Buena as a great school, [by] just how nice all the students are and how a vast majority of the students are the nicest people," McNutt said.
While working with Buena staff, McNutt has never felt like he's had to worry about whether his co-workers would be hard to work with, and that they all share a love for the kids.
"It's hard coming into a new place especially after the two year hiatus, he's always willing to try it," assistant principal Tina Perez said. "He's always a valued added player."
Mentoring students, helping to keep them on the path to success  are amongst the most impactful roles in his educational career. One of his best memories was when a senior at one of his prior schools was falling off track from a good transition into his next stage of life, and McNutt was able to steer him back on course throughout his senior year.
"The Monday after his graduation, everything was done, and he waited about two hours in the office to just tell me thank you for helping him," McNutt said. 
McNutt says he works for the students, and he does his best to keep respect both ways. Buena students can often find him out in the quad during lunch and break. 
"Keep your head in the right place and work hard, and great things are going to happen," McNutt said.