Buena Speaks News Section Editor Kimberly Solis heads into the next cycle of life
First year Buena Speaks journalist and News Section Editor Kimberly Solis is, as described by her closest friends, caring, funny, and dependable. As her high school years come to a close, her hopes for her future take her on great adventures.
Kimberly Solis attended Briggs Middle School in Santa Paula before transferring to VUSD, to Buena for high school.
Entering into high school, Solis was "nervous" and "scared", but now she has found her confidence as she is nearing the end of her senior year.
"At first she seems really quiet, but she is social when you get to know her," Solis' friend and classmate Daisy Cisneros said.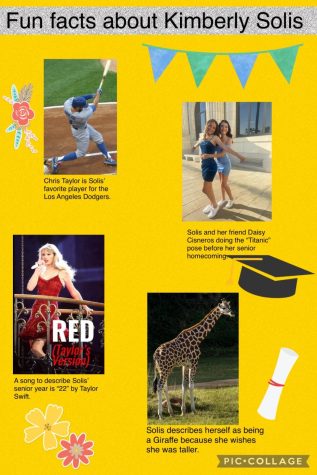 Solis loved the "being home aspect" of online learning during her junior year, but did not appreciate the "learning" part of it. Her love for the Los Angeles Dodgers grew as she spent that time watching a lot of baseballEven when she returned to school, she still often watched  the games during downtime in class. 
Eleventh grade English with  Kailynn Taylor always seemed to excite Solis during online learning.
Throughout her junior year, Solis was able to prove her abilities through her online assignments."She was able to be creative with her writing and really immerse you in her world," Taylor said
Senior year back on campus has provided Solis with experiences that were deprived from the previous two classes. The highlight of her senior year was going to dances, especially homecoming.
"The best memory of high school with Kimberly is Senior Ball. She made it a memorable night and a fun experience dancing with friends," Solis' friend Victoria Arevalo said.
"You get to receive information and then get to transform it into how you perceive it," Solis said.
"
I remember feeling alive in all these moments because they make me who I am and what my story is,
— A quote from a poem Kimberly wrote in her 11th grade English class.
Solis' responsibilities as an editor did not stop her from expanding her impact on Buena Speaks. She became one of two journalists to begin our 50 Questions segment on our website where she interviews Buena Faculty. She has also taken over responsibilities for Buena Speaks social media accounts.
"My favorite article I've written is my opinion article on masks making us insecure," Solis said in reference to her article Opinion: Masks made us insecure, which is Buena Speaks' ninth most read article this school year with 139 views.
With less than three weeks left in the school year, Solis has one last message to send:. "Don't take yourself too seriously, because you are going to look back and ask, 'That's what I was like?'" Solis said.