Buena girls varsity water polo pulverizes Pacifica players in first league meet of season
Nov. 30, the Buena girls varsity water polo team prepared to crush the competition in their first league meet of the season. Despite the cold weather and the nerves from playing the season kickoff league game, Buena drowned out the Pacifica varsity team's chances at winning the game with scoring 24 points while the other team scored just two.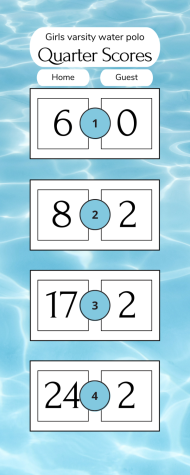 While the girls warmed up, the crowd began making their predictions for the game. On the sidelines, senior varsity player Shawn Coyner began to give commentary on the coming game for the JV team. "We should win, this team is very strong. There's great team cooperation," Coyner said just minutes before the game started.
The Buena girls started off strong, scoring three goals within 41 seconds in the first quarter. The girls ended up scoring six goals against the Pacifica team in the first quarter.
"[The game is] Feeling pretty easy right now, they scored three goals in 41 seconds so that's good," JV player, freshman Grace Baxter said from the stands. 
As the first quarter ended, the JV girls water polo team began to watch closer to the technique being used in the pool. "They're playing hard and playing strong," JV player, freshman Paige Krause said after the first quarter. 
In the second quarter, the Pacifica team stepped up their game and scored two goals against Buena. In return, the Buena girls went on to score two more to keep their heads above the water and take the competition out.
The third quarter was just as the rest of the game with the Buena girls consistently scoring against Pacifica.
During the last quarter of the game, both teams stepped up and played all out. The Buena girls varsity team scored a total of 24 points while Pacifica kept a steady two point score. The girls took the win calmly and did not celebrate until in the locker room.
"
There's great team cooperation,"
— Shawn Coyner
"It was a really good game," senior captain Kathryn Salazar said. "We played smart." The win for Buena kicked off their season league meets. The strategy and play from Buena was precise and they played a steady game and did not let the alleged foul play from Pacifica get to them. 
"The other team was pretty aggressive," senior goalie Carly Matheson said. "But we held our ground and didn't play as dirty as they did."
In an email sent in by head coach Thomas Favero detailing the game afterwards, " The girls all played so well throughout the entire game," Favero said.