Buena and Ventura renew their rivalry for the 56th time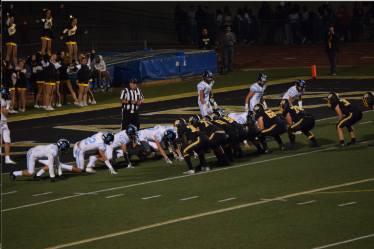 On a warm evening at Larrabee Stadium on Oct. 25, the Buena Bulldogs and Ventura Cougars looked to renew their rivalry in the historic annual game. This year marks the 56th time these two teams have faced off against each other.
The last time the Bulldogs beat the Cougars? 2009. Yes, a whole decade. Buena has been tired of hearing about this drought and would love to punish their rival.
With a packed crowd eager to watch the game, all spectators waited as the Cougars honored their seniors in their final home game. The game started shortly after at 7:30 p.m. beginning with the coin toss.
Ventura won the coin toss and elected to receive the ball first. The scoring would open quick as junior Cade Ledesma threw a 26-yard touchdown pass to senior Jadon Cline to put the Cougars up 7-0.
A missed field goal by Buena would keep the momentum on Ventura's side. They would use this momentum as senior Zach Rodriguez would return a punt 68 yards to the house and add to Ventura's lead to make it 14-0.
The sense of hope seemed to go away in the Buena spirit section. Buena student Daniel Tinajera commented, "We didn't seem like we were in the game, it felt like we were asleep."
"
The last time the Bulldogs beat the Cougars? 2009. Yes, a whole decade. Buena has been tired of hearing about this drought and would love to punish their rival."
Shortly after senior Bruce Powell-Mathis would punch in a touchdown for Buena's first score and cut the Cougar lead to 7. Ventura would respond right back with a 34-yard touchdown run by Cline and extend their lead back to 14. The half would finish with Ventura on top 21-7. Powell-Mathis, on how he felt at halftime, said, "I just told myself to keep fighting and never give up."
During halftime, the Ventura High School's cheer and dance team would entertain the crowd as they anxiously waited for the second half of play.
Ventura kicked off to Buena to begin the second half. Their defense would hold and get the ball back. Shortly after, senior Dane Kapler would pull off a 63-yard touchdown run and make the score 28-7.
The Bulldogs would then return with a touchdown of their own when sophomore Jack Chavarria connected with sophomore Jackson Geier on a 37-yard touchdown strike. The lead was cut down to 28-14.
Ventura never seemed to slow down as on the following drive, Ledesma would score a touchdown of his own and put Ventura up 35-14.
The Bulldogs wouldn't go away as they put together a solid drive. The drive was capped off by Powell-Mathis running into the endzone for his second touchdown of the day. Buena would still be down by a score of 35-21.
The game consisted of both teams scoring after one another. This is exactly what Ventura did again as Cline scored his third touchdown of the night. The score now 42-21. Buena would then return with another touchdown by senior Josh Jones. Score now at 42-28 and Buena would hope for an incredible fourth quarter comeback.
The Cougars were not even thinking about letting up a comeback as Rodriguez stuck a dagger in the Bulldogs with another touchdown to make it 49-28 late.
The Bulldogs would fall to their rival once again by a final score of 49-28. Sad and disappointed faces hit the Bulldog players as they walked away from Larrabee. Don't count the Bulldogs out next year as they will return their young team with their sophomore quarterback Chavarria more mature and hungry.