2020-2021 yearbook goes tech-savvy
Meet the artist behind the cover of the yearbook
As the end of this unique school year approaches, you might be wondering what the yearbook will look like this year. Amanda Graves, the adviser of the yearbook staff, admits that the yearbook was "entirely created by the Buena community" so it' is no surprise that despite the challenges the yearbook staff faced in creating a memorable yearbook, they enlisted the help of senior Hope Stewart to create the cover of the 2020-2021 yearbook.
"This year's yearbook is going to look like no other yearbook before… I think it only makes sense to have the cover designed by a Buena student, not something that's off a template," Graves said.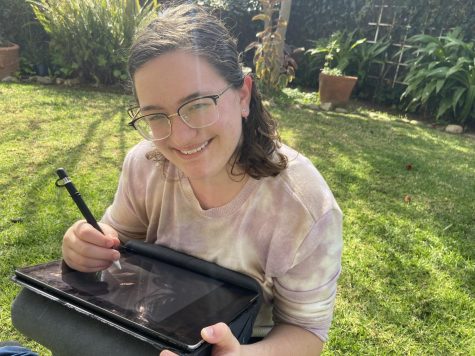 Stewart has had a passion for art for over eight years and has been part of Nicole Rapattoni's art classes for four years, two of which being advanced placement art classes.Although Stewart was at first anxious to put herself in the spotlight, she ultimately took on the project. 
"I was afraid of what people might say, which is the biggest stigma in art. When you are asked to show some of your drawings, you're shy about it, because this is a part of you," Stewart said. "I think what drove me is me thinking that this opportunity won't present itself again, and if it does, I probably won't have as much creative liberty as I have for this project."  
Rapattoni was the one who recommended Stewart to Graves for the official yearbook design contest. Graves was overall impressed by Stewart's work and stated that she is the "epiphany of a growth mindset." 
"Any piece of feedback she gets she didn't take anything personally," Graves said. "Sometimes people's first instinct is to get a little defensive, but Hope didn't do that at all."
Stewart wanted the cover to represent the year but still had to follow the theme of the yearbook, "the show must go on". The end product of Stewart's design resulted in a perspective of looking into a computer screen monitor, with a design of another yearbook cover following a "theatre-ist quality" as Ms. Graves and her staff requested.
The image also includes key icons which Stewart has seen as trending since the start of the pandemic. Things like Netflix, Among Us, Discord, Zoom, and others. Rapattoni and Graves both agree that Stewart's overall ability to work the theme of the yearbook with the year's context was "brilliant."
"She so easily, with this one picture, summed up this year- this school year! Being stuck on our screen and doing Google Docs, watching Netflix, playing video games, and our only real connection to people is through a screen," Rapattoni said.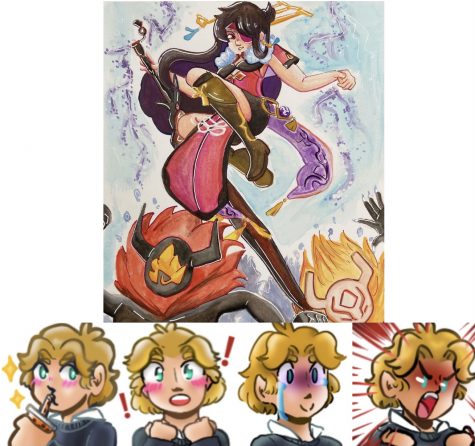 However, Stewart admits that the design of the yearbook is outside of what she normally draws. Stewart tends to enjoy drawing "scenes" and character designs instead of drawing objects with "hard-core shapes and straight lines."
"If you were to ask me to draw something, I would draw you a character. You can tell me like a character design you have in your head, and I draw it," Stewart said. "I also like to do a lot of illustrations of scenes. Think of it like taking a picture of a moment in time."
"Hope has always been good. I think her [skills] digitally has gotten a lot stronger," Rapattoni said. "But only because I think she practices a lot. But I think from the very beginning, from art one on, she's always been really strong… I'm so proud of her!" 
Although Stewart's senior year didn't go as planned due to high school experiences such as prom being cancelled, she is still "excited" about her bright future ahead at Ventura College and, hopefully afterwards, Laguna College of Art and Design. 
"I really want to go [to Laguna College] because the illustration program seems like so much fun! Honestly, the school sounds like the environment I have in my art classroom, which is also why I really want to go," Stewart said.
For those who have yet to purchase a yearbook, you can still get a yearbook at the ASB web store until May. The starting price right now is $85 until April, however this will increase to $100 by May.
"If you didn't get the yearbook, you should, and not because I made the cover," Stewart said. "I think having this yearbook this year is like a sense of, even though we're all apart and we're all in our little 'covid bubble', there was at least one normal thing that happened this school year, and that was getting the yearbook."