Buena offers a small token of love to the class of 2021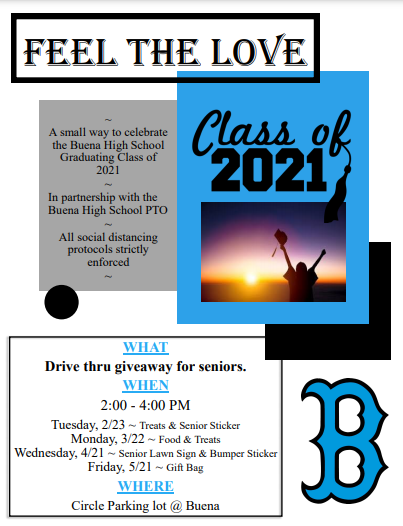 For the next 3 months Buena will be hosting one drive-by giveaway a month for seniors, as a way to spread the love to the graduating class of 2021. This series of drive-thru giveaways will take place March 22, April 21, and May 21 from 2-4 p.m.
"The overall vision for the event was to have a way to show our love to the class of 2021 who have missed out on so many meaningful activities for their senior year," said Tiffany Emhoff the assistant principal in charge of graduation and senior activities.
Buena has partnered with the PTO to plan these giveaways although "many people have helped make this event possible" according to Emhoff. Including principal Bobbi Powers, ASB advisors, Mr. and Mrs. Foster; ASB bookkeeper, Ms. Whitney; student services secretaries, Ms. Van Noy and Ms. Trone; Assistant Principal Frank Davis, the Buena music association, ASB leadership students, and local Ventura businesses.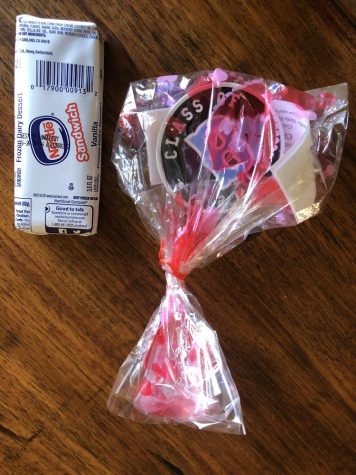 "The idea originated out of a conversion between Ms. Powers and a mother of a Buena senior. The mother suggested the idea and we worked with our team to make it happen," Emhoff said.
Only about a third of the Class of 2021 seniors attended the first giveaway Feb. 23 with hopes that more students will participate on the upcoming dates.
"I am hopeful that the future dates will have even more participants. The gifts at the Feel the Love events will just keep getting better," said Emhoff.
Even though only a third of the class of 2021 participated, it has already made a positive impact on our students.
"I thought it was a cute way to show support for the senior class. I was really looking forward to being a senior and having special senior things to do before covid happened but those things got taken away because of the pandemic. But I'm happy they put together this thoughtful event for seniors," senior Andrea Padilla said.
Seniors, don't miss out on this opportunity to accept a small token of love from your Buena administration.