The new array of fashion trends: From 90s Vivienne Westwood to the spunky spirals of Maison Soski
A plethora of varied trends have taken center stage this fashion season that cater to many different styles and aesthetics. As this winter fashion season comes to an end, current trends we saw did not all completely cater to the cold weather, but since COVID-19 keeps us indoors, the cold may not have been a factor when it came to the spread of popularity of certain items.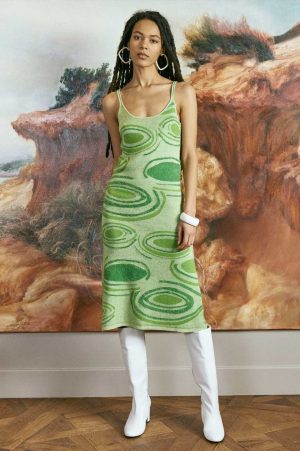 A brand that has become recently popular is House of Sunny with its notorious Hockney Knit dress, in a beautiful array of green shades. Green is a color that has become increasingly popular lately in the shades Sage, Forest, and Pistachio. The House of Sunny brand has a very light and summery style, sporting many pastels and a Gustaf Westman vibe.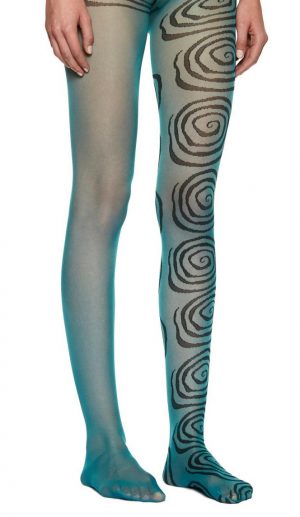 Other items of accessory that have the same elements in terms of style seen in House of Sunny include, La Manso rings and Mason Soski tights. Both of these items feature vibrant colors and will definitely be the defining characteristic of an outfit.
Taking a turn in general aesthetic designer Vivienne Westwood has become increasingly popular, not just her signature pearl necklace, but her style of corset tops, and other jewelry pieces with the signature Saturn logo. Her clothing being increasingly popular between 2020-2021 made other designers with a similar ambience of 90's, gain popularity as well.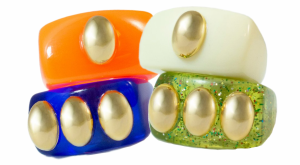 These designers include John Paul Gaultier with his mech graphic tops and "ragged" torn looking clothing. Another brand is Chrome Hearts who was very popular in the 90's but was brought back thanks to celebrities spotted wearing it, these include Madison Beer, Bella Hadid, and Devon Lee Carlson.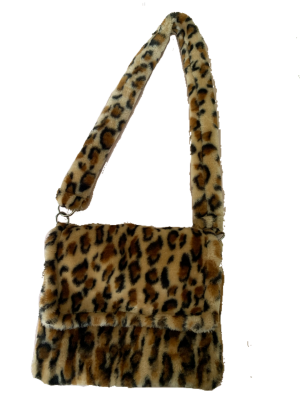 There have been many individual items that have become popular such as ripped/running pantyhose, which falls under the category of the 90's vibe. In terms of accessories, other items such as fluffy bags still take the scene as seen to the right, but something more recent is crochet hats with cute designs such as hearts or resembling strawberry.
Lastly, there has been a rise in the wear of funky beaded jewelry as displayed to the left. Similar to the beaded necklaces recently many celebrities have been seen with a beaded holder on their phones, The brand these beaded lanyards are coming from is String Ting, with the Instagram handle "string ting."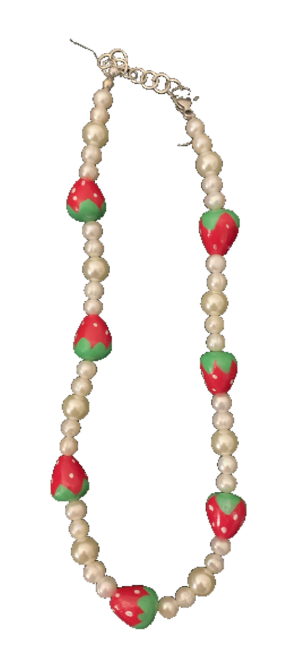 The fun thing about these recent trends is that many of them are DIY-able. On social media apps such as TikTok, many individuals are seen using polymer clay to make the La Manso rings, and small businesses like Lolita and Jade make fluffy bags in all colors. 
Although many of the brands stated are more high end and can be less affordable, it's important to remember that in the world of fashion there will always be an affordable option. Places like Forever 21, H&M, and even thrift stores have been hot spots for items that are trendy. Not to mention a trip to Michaels and you can have the cutest little necklace ready to go.