Updated hybrid schedule met with praise and concern from staff and students
During the Ventura Unified School District special board meeting on March 28, board members voted 4-1 to ratify the newly proposed hybrid learning schedule. 
For secondary schools, this means group A and B will be separated for the first two weeks of in-person instruction, which will begin on April 12, the first day back from spring break. After two weeks, group A and B will be attending classes together until the end of the 2020-2021 school year. 
Although a majority of the board was in favor of the new schedule, board Trustee Amy Callahan was in opposition to the proposed schedule. 
"I feel we absolutely need to have our students back…," Callahan said. "An MOU [Memorandum of Understanding] is not legally binding…We will be allocating 1.9 million dollars of funding that is tied to this MOU before we have a chance, A. to have parent feedback, and b. to be discussing the template and stakeholder feedback and approval come June 1…"
During this special board meeting, there were 6 public comment submissions from VUSD students, teachers, and community members regarding school reopening. Among those public speakers was Sebastien DeClerck, a teacher at Ventura high school who voiced his concerns regarding the ratio of students of color versus non-students of color who would be returning to his classroom under the adopted hybrid schedule.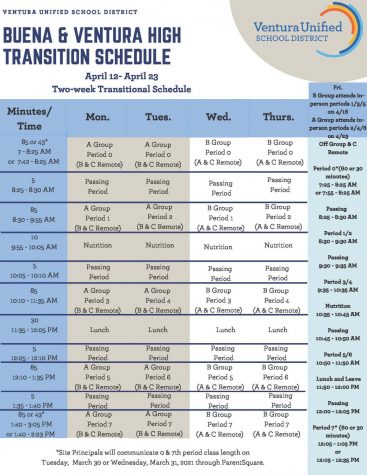 "When we return under the proposed schedule, of the students returning to in-person learning in my classroom, 30 percent will be students of color. Of those remaining fully online for my class; 70 percent will be students of color," DeClerck said. "The disparity between the students who are returning and those who are remaining in distance learning already exists, and the new schedule negligently aggravates the problem. Perpetuating yet again a systematic racism that underserves our underprivileged students."
DeClerck stated that he was not in opposition to reopening schools, although he thought the issue should be recognized by the board. 
VUSD senior Elsa Schmidt voiced her opposition to the five day a week hybrid schedule, citing  physical health, mental health, and transportation concerns. 
"Students will wearing masks for around five hours everyday, three feet from their neighbors, which is about the same distance we sit in a normal year in a room with minimal air circulation," Schmidt said. "I believe that after a year of no contact, we need more than 2 weeks to ease into a full reopening for our mental and physical health."
Despite the many concerns brought up by the board and community members, the board ultimately voted to ratify the new hybrid schedule. 
For more information visit the VUSD hybrid learning website and watch the full special board meeting recording here.