Class of 2021 valedictorian Carlos Alcantar creates chemistry at Stanford University
 The class of 2021 has officially named its valedictorian; Carlos Alcantar. With a 4.74 overall weighted GPA, Alcantar has been working towards leaving his mark on Buena since freshman year. As a declared chemistry major attending Stanford University in the fall, Alcantar has proven that hard work and dedication does pay off. 
"…Seeing the Hall of Fame during student orientation motivated me to try to get there," Alcantar said. "My dream to succeed was further pushed by the amazing faculty at Buena and the support of my parents."
Alcantar has been a part of various extracurricular activities on campus such as Key Club, Black Student Union, Knowledge Bowl, School Site Council, and Science League, which ultimately revealed his passion for chemistry. He has also been a part of the Advanced Placement and honor programs , and got ahead through the dual enrollment program at Ventura College. 
"Science League helped me find that sense of community I desperately wanted in my high school career," Alcantar said. "It helped me find a purpose and make new friends that I still maintain today."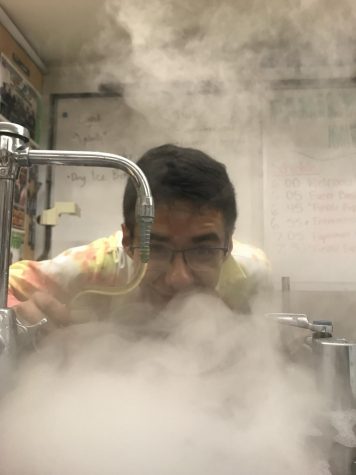 Alcantar accredits his overwhelming success in school to his parents, friends, and the "amazing" faculty at Buena. The teachers and counselors at Buena have made a lasting impact on his perspective of what high school can be, and has fueled his enthusiasm. 
Although Alcantar claims he struggles with imposter syndrome and lacks self confidence, he thanks the staff at Buena for helping him overcome his problems.
"Their willingness to talk to me about my issues and opinions has been one of my favorite moments at Buena," Alcantar said.
Looking forward, Alcantar is anticipating joining the Alpha Chi Sigma fraternity at Stanford; a national fraternity for chemistry majors, and "any club that is like science league." At the moment he does not have any definite career plans but is interested in becoming a chemist at a biopharmaceutical company. 
"Carlos has a passion for learning and excelling in all he does. He takes value in building personal and professional relationships, and he takes pride in his involvement at Buena and in the community. He is respectful, thoughtful, and an all-around wonderful human being," English teacher Antoinette Perez said. 
"
He strives for the best, and he never settles for mediocrity. "
— Antoinette Perez
Perez has been Alcantar's AP English teacher and one of his closest confidants at Buena. She wrote multiple letters of recommendation for the various colleges he applied to including MIT, California Institute of Technology, The George Washington University, Harvard University, University of Massachusetts Lowell, Columbia University, and Saint Martin's University. 
Perez thinks highly of Alcantar claiming that he is "…every teacher's dream student–one who works hard, challenges himself, advocates for his own learning, and is insightful."  
"He strives for the best, and he never settles for mediocrity. He takes the toughest classes, learns from his mistakes, and he even seeks help when he doesn't need it. Carlos has high expectations, and he thrives on challenges," Perez said.