College application season, the most stressful time of year simplified
'Tis the season when the weather has begun to cool down and the joy of the holiday season is present as the promises of reuniting with friends and family near.  However, this is at the exception of seniors all over the country, and at Buena who are in the trenches of college applications.
The class of 2022 faced an unexpected turn of events when COVID restrictions forced students to learn from  home for a year. With these changes came  challenging setbacks such as  less motivation to get work done, worsening grades, and a lack of participation across the board. What one did not directly predict,  was the lack of preparation for applying to post-secondary schooling.
With the University of California normal application deadline approaching on Nov. 30th, and the deadline for private and out of state universities approaching in Dec. and Jan., understanding this topic is becoming more important. To simplify the intimidating application process, you can break it down into three main areas of focus.
Letters of Recommendation
Letters of Recommendation seem to be one of the biggest stressors for classmates. The issue of who to ask, and how to ask becomes overwhelming. I was surprised to find out that UCs are not requiring letters of recommendation this year, or accepting them at all.  
However, other schools are requiring these letters and it is not too complicated to comply with. If you are using the Common App website these are steps you would need to follow:
Create a Brag Sheet-a sheet that includes  information about your academic life as well as your personal life. There are templates online you can use for help. 

Decide which teachers, coaches, or adults in your life you wish to ask and print out a copy of your brag sheet to give to them. Asking these adults in person will make a better connection and show you are serious about this letter.

Through Common app go to each college individually and add the person's name who is writing the letter of recommendation and email to recommendation section 

Thank these people
Applying
Another common misconception is where or how you apply. Growing up I always imagined a paper you filled out and mailed into each college individually. This idea made me nervous as it would require a tremendous amount of work. However, once I dove into the process I was pleasantly surprised. 
There are three main platforms I discovered that cover most if not all schools one would wish to apply to. These include the UC Application cite, Coalition, and the Common Application. Through these programs you choose what schools you wish to apply to, fill out your information and submit the same application to multiple schools. Much more simple and less intimidating than most students would think.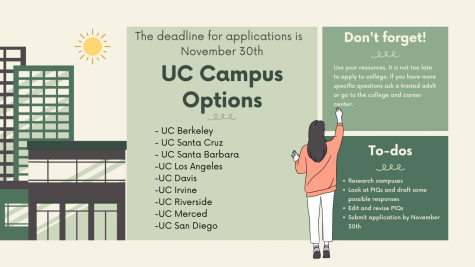 Writing for your application
Most schools require some type of writing included with your application. These include the Common App essay, Supplemental essays and Personal Insight Questions. For this section I am going to go over the Personal Insight Questions for the UC application. For this you are provided with eight questions and you must select four of these and respond with 350 words or less for each essay. 
Do not stress about these. 
Try to respond to each question and then go back and read them and choose which one you feel has resonated with you the most, or gives the best insight of yourself. Have multiple people read them over and edit it for you. Be confident.
Conclusion
The biggest complaint I can come up with is the lack of preparation received over the highschool experience. Freshman year we were put into College and Career seminars, but we were not taught about how to apply to Universities. Junior year, most students created Brag sheets, but still did not know how to go through the process. This year we received a little bit more information but too late to apply to a lot of the early action or decision application deadlines. 
Junior year seems to be the prime time to teach students about this process. It gives them time to think about what colleges they wish to go to, and whether they want to apply early or at normal deadlines. All in all, schools need to better prepare students for college ASAP.