Beyond the horizon: Animal Crossing's new update
"Animal Crossing: New Horizons" has made a massive return with their new update and costly downloadable content that was released Nov 5, 2021. The successful Nintendo game continues to make history after first garnering over 32 million sales a month after its initial release back in March of 2020. 
After the Nintendo Direct went live Oct. 15 to show fans the update, fans worldwide saw what the new update had in store for them. The announcement had blown up on social media and it initiated a great revival of Animal Crossing content. Once again, screenshots and graphics were uploaded all around different social platforms to spread the word and it has regained its popularity. 
The most recent update promises new activities such as farming, cooking, and even group aerobics where you can join villagers in front of town hall to do various yoga poses. There are vast amounts of new furniture, including the return of gyroids, (special decorations that make sounds), and an addition of new villagers. Such as long time favorites Kapp'n and Brewster, two special characters that appeared in previous games and have been anticipated throughout "New Horizons" original release.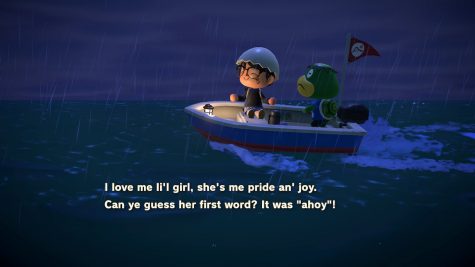 There's also the expansion of Harv's island, which used to only be used for staging photo shoots.  This extension means no more having to wait for the characters Leif, Kicks, Saharah or even the infamous Redd to appear since their new shops are now permanently placed on Harv's island. 
Then, of course, you have the most exciting add-on content known as "Happy Home Paradise" that will only enrich your gaming experience even further. 
"Happy Home Paradise" is a sort of revamp of a prior Animal Crossing spin-off. In this new version you meet animal villagers and design vacation homes for them. Many are excited about this new add-on.
"The best thing about Happy Home Paradise is the fact that you're able to have a vacation island," junior Leilani Basila said. "There are several areas that you're able to pick for other villagers and you're able to design homes for them."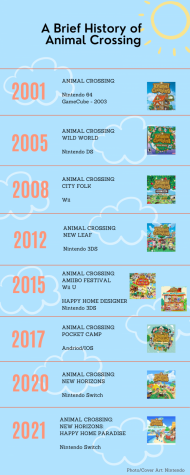 Through this new feature you are introduced to the beloved character Lottie who will aid you in the design process, but you are not just limited to homes. You can design various main buildings on the island, such as a school or restaurant.
With this new update, and new DLC content, "Animal Crossing: New Horizons" has sparked back new interest in many players. Many fans worldwide have come out and said that after a while, they had lost interest in the game, and I'm one of them. 
After completing all the initial tasks in New Horizons, I began to work on shaping my island. Even though I still had more insects to catch, more fish to fish, and I was nowhere near completing the fossil or art collection in my museum, I felt like I had run out of stuff to do.
Now, I'm back to playing everyday and find myself looking forward to expanding my island once more. Being able to design homes in such an easy, efficient way has made the game even more fulfilling. 
"To the people buying the game [and] DLC or are planning to, you will not regret it." Basila said. "It is very exciting and entertaining and you will have more things to do and make memories as well."