Five star start to your winter break with Starbucks holiday menu
Starbucks is there for you, no matter what holidays you celebrate. Whether you like the nip of peppermint, or the toasty warmth of praline, Starbucks has it all. As soon as you open the door, a cheery barista greets you, and the warmth of the store hugs you as the fragrance of coffee floods your nose. Their winter flavors can be enjoyed across all borders, and we tried them all.  We are here to give you our most prestigious opinion, here's a winter with starbucks.
Iced Sugar Cookie Latte
Made for coffee lovers with a sweet tooth, this drink still holds true to the coffee flavor, but has the sweetness of a home cooked sugarcookie. Our favorite part was that every sip was a surprise with the bits and pieces of crystalized brown sugar sprinkled throughout the drink. Personally, this was among the best, it met both of our expectations, and drinking it transported us back in time to making sugar cookies with our families every holiday season. We also loved how this drink could be an everyday go to, it was special for the holidays, but can be enjoyed year round. 
Peppermint Mocha
This classic holiday drink was less than pleasant for us. Even with a sweet tooth and love of coffee, the Peppermint Mocha did not check any of our boxes. The minty chocolate flavor of the coffee makes an appearance every holiday season, and our expectations were high. The whipped cream with the chocolate shavings made an aesthetic presentation, but the satisfaction provided by the drink was only skin deep. We both felt the drink was mixed poorly, and was chalky. The peppermint flavor, to us, does not mix well with the flavor of coffee, and we were disappointed by this beverage. 
White Chocolate Mocha
Decorated with a simple whipped cream topping and crushed peppermint candies, the White Chocolate Mocha was perfect caffeinated sweetness. The white chocolate flavor did not translate through the whole drink, and rather than tasting like white chocolate, the coffee just tasted sweetened. That said, the coffee complimented both our tastes, it was a perfect medium for the two different palates.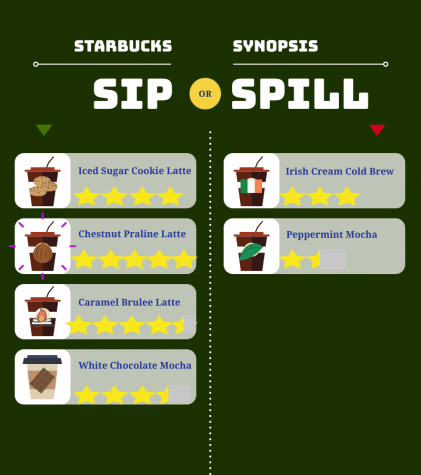 Caramel Brulee Latte
This revamped caramel coffee drink is topped with whipped cream, and bits of caramelized sugar to sell the "brulee" aspect perfectly. We tried this coffee iced, and it had just as much coffee flavor as it did sweetness, adding to the list of drinks that we both enjoyed, as it perfectly complements both of their tastes. The caramel flavor isn't too overpowering, but definitely noticeable. This holiday drink is the ideal match for any holiday fanatic who is a fiend for caramel.
Irish Cream Cold Brew
This drink had just as much holiday spirit as it did flavor, almost none. This coffee, while advertised as a holiday drink, has nothing special to offer, and tastes like a regular cold brew coffee without the flashy title. Its dark, strong taste, mixed with silky, smooth creamer, resulted in a tasty combo. Even though the coffee lacked holiday pizazz, it was still a good cup of Joe. 
Chestnut Praline Latte
Saving the best for last, the Chestnut Praline Latte is the epitome of holiday drinks. This was the only drink we tried warm, and it tasted like a pecan pie, fresh out of the oven. The warmth of the coffee fills your entire body with the good cheer of the holiday season. This drink blew all of the others out of the water. Perfectly sweetened without losing the coffee flavor, we recommend this drink to everyone. We loved this one so much, we have gone back to get it multiple times, having tried it both hot and cold, and the goodness of this drink translates no matter the temperature. Starbucks truly did put their whole holiday heart and soul into this drink, and it shows.