Ventura sinks Buena in their cross-town rival game 13-4
The cold, cloudy day matched perfectly with the cold blue water. Buena girls water polo jumped in to prepare to take on their cross-town rivals Jan. 13. As the girls opened with the cheer "Buena on three, one, two, three Buena!"
The whistle blew and immediately the girls went rushing to the ball. Ventura reached the ball first, quickly heading to the goal, and scored to make the score 1-0. Buena took the ball down to the Cougar side, and struggled to find a way inside the goal. Soon after, senior Brooke Sitton scored a goal, bringing the dogs to a tie score.  Ventura scored two goals back to back and made another attempt to score right before the buzzer ended the quarter with 3-1 Ventura taking the lead.
Second-quarter started with Ventura attacking Buena's goal, and went on to score four goals, making it 7-1. Sophomore Ava Willams and Sitton both scored for Buena, but Ventura still had an  8-3 lead at the end of the second quarter.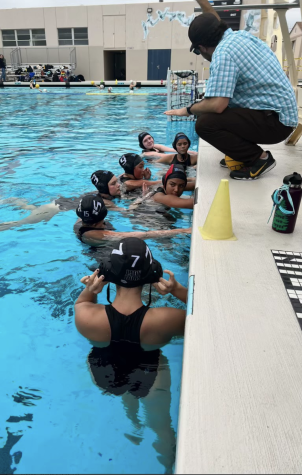 "I feel great so far," junior Jacqueline Starr said before the third quarter started.  
However, the quarter started with a whistle from the referee and Ventura quickly swam to reach the ball to make a goal, scoring to take a nine-three lead. 
 Buena stole the ball to get it down to the goal Starr was open for the play and scored, adding another point for Buena, 9-4. Despite Buena's best efforts, Ventura scored as soon as they got the ball back,10-4.
Buena junior goalie Kathryn Salazar continued to protect the goal as much as she could, yet Ventura was able to slip the goals through her. Soon after, Ventura scored back to back ending the third quarter 13-4. 
The match did not get any better in the fourth quarter for Buena as Ventura outscored them by three goals to none.
"We are doing really really well, playing competitively and improving every day," water polo coach Thomas Favero said.