Dylan Laux finds balance between school, home, and work.
Either during his job or at school with his friends, Senior Dylan Conner Laux tries his best to have a positive attitude. The only attribute rivaling his kindness is his passion for his instrument, the tuba.
"Dylan is such a good person to be around, never a dull time around him," senior Colin Erickson said. 
His friendship with Erickson and love for music started in middle school, when he joined Balboas' beginning band. Originally wanting to play on percussion, such as the snare drum and timpani, fate had him assigned to the tuba.
"I was shocked at first, but not as shocked as my mom," Laux said. "I was surprised, but excited because it was a big instrument for a big guy."
Standing at 6'4'', the stature of the tuba rivaled his own. During band is when he met some of his greatest friends, specifically during seventh and eighth grade, when he was in concert band. In seventh grade he met Foothill senior Preston William Ea and they became fast friends thanks to a video game.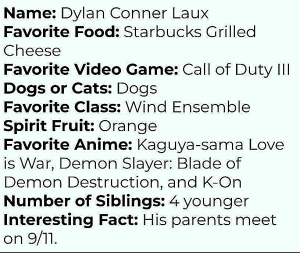 "It was because of Clash Royale mostly, what was friendly competition turned into something more," Ea said.
One of the many things Laux is good at is playing video games. He specifically excels at games where you need to perform under pressure, such as the Five Nights at Freddy's series as well as games that are highly precise like Valorant and the Forza series.
It was because of his calm nature that made him think of getting into the medical field.  He plans to try to get into a 4 year college or university to study medicine. 
"I believe I have the skill to stay calm and be effective in those emergency situations," Laux said. 
Although he doesn't really know what specialty in medicine he wants to be, he knows he wants to help people. In addition to attending  medical school, he still wants to maintain his musical talent, and learn to play new instruments. 
In the future Laux would like to learn how to play the C tuba, mainly because he already knows the Bb tuba. e thinks it would be "awesome" to learn the clarinet and the flute since low notes sound "pretty," as well as them using a lot of air like the tuba.
With a bright future ahead for the tuba player, he doesn't have to worry about walking his path alone. Senior Aleksander Siekiel-Zdzienicki, has known Laux for the longest period of time, knowing him since seventh grade, similarly to Ea and Erickson. 
"Dylan is a very cool dude, and I don't think our friendship will change at any time," Siekiel-Zdzienick said.