Glamorous Euphoria is not completely glamorized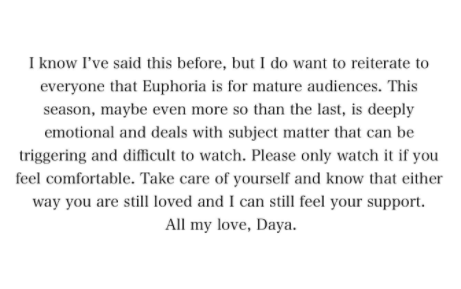 The show Euphoria has fans debating on how realistic the portrayal of the high school experience is, as many have commented on the exaggerated characters and plots of high schoolers like, the immense amount of partying and mature outfits. While the show does exaggerate certain aspects of the modern day teenage experience, it does not take away highlighting important struggles current teens face. 
The show premiered in 2019, but hit its popularity at the start of 2020. Fans first fell in love with the show's drastic plots and scenes like the colorful scenery and glittery appeal, but later fans started to notice a pattern of glamorizing addiction and over-sexualization of teen characters. 
Season one shows main character Rue, played by Zendaya, struggling with teen addiction after the passing of her father. Fans were upset by the portrayal of Rue's addiction. Specifically, they comment on the flashy lights and glittery makeup while she is under the influence, the way they set up these scenes make the actions seem positive rather than showing the negative consequences.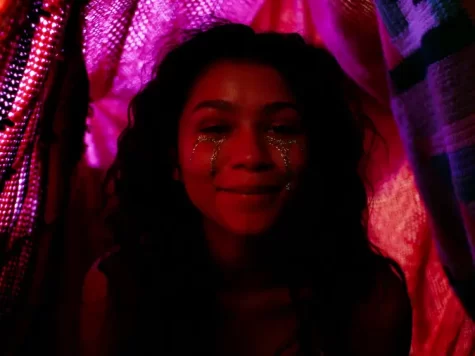 "I think when a lot of people watch, they think it is romanticizing but I feel like they don't focus on the parts where you see the consequences of the [characters] actions," junior Natalie Cutler said. 
The second season aired Feb. 27, showing a different side to the struggles of Rue. Season two shows the consequences Rue struggles with and the mental illnesses she faces that adds to the addiction. 
Due to Euphoria's glamorous and extravagant design, it is understandable that people think the show is completely made up, but drug use is, unfortunately, common amongst teenagers. In fact, adolescents ages 12 through 17 at a rate of 6.3 percent have substance abuse problems. 
Producers and directors have also been criticized for the physical portrayal of teens. Many fans have wondered why directors would want 16 and 17 year olds to be sexualised in such extreme ways. Showing characters at age 16 through 18 wearing mature outfits and acting in sexual ways.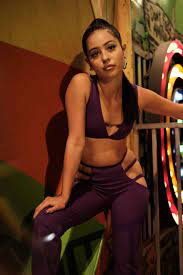 "If they are going to keep the same characters and story line, I think they should have made it about college students," Cutler said. "If they wanted it to keep kids in high school, they should change the way they act and dress." 
I think it is important to keep in mind that although the show is tackling real life problems, it is still a TV show. Directors have purposefully made it interesting and entertaining to gain people's attention. They do this through the graphics, language, outfits and soundtracks. The show can be "unrealistic" or over dramatic sizes in certain ways, but still address the reality of teen struggles. 
Although Euphoria is not the most accurate portrayal of the high school experience, similar to other shows that display real life issues, representation for teen struggles is extremely important for today's youth as well as older generations. It breaks a barrier and helps generations understand each other's challenges.