The end of a season: Winter guard and winter drumlines showing of Resurgence and River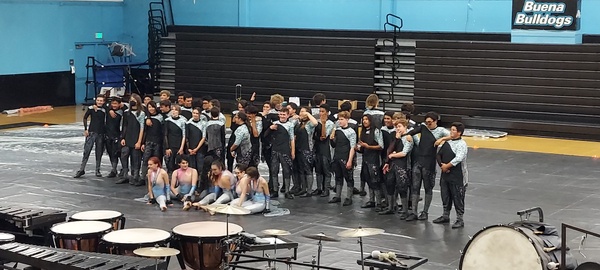 Drumline and colorguard put on their shows River and Resurgence, May 5, in the gym for their parent performance and as their final performance of  the year. Both groups have been working exceptionally hard all season at competitions and practices. 
Performing Resurgence, colorguard showed how people are portrayed in modern day media, Teaching the audience how to love themselves despite what the media says. Their show is about how people are portrayed in modern day media. It is mostly shown about learning to love yourself no matter what. .
They performed with "shattered mirror" props and moved with and without equipment. With plain purple flag silks and sabers showing symbolism of  "hate" and "dislike" towards yourself. Ending with rainbow flag silks and with an ending pose of showing the audience a "reflection" of themselves as a way to spread self love. 
The team worked hard all season long. Having one difficulty of losing a coach due to her maternity leave to working late nights in the cafeteria. In the end, it all worked out for them to get 2nd place at championships. 
At the parent performance color guard worked their hardest to put on the best last performance of the season for the community and for drumline. 
After this season for color guard there are only three remaining members. Both colorguards captains, Xitlaly Mejia and Samantha Venegas are hoping for more people to join next season. Along the captains for the winter drumline in hopes for more members. 
"I do want more people, because I think it'll be fun," Venegas said. 
"
I think that a lot of people were still not very used to how things were beforehand"
— Mckile Albino
Winter drumline's River showed both metaphorical and literal with both "sounds of a river and the movements of one," percussion head Phil Idell said. 
Drumline was even more motivated since coming out of covid to get to where they were by the way they would perform by playing their music. But sadly prelims was their final competitive performance.
"The motivation was trying to get as close to normalcy as possible," pit captain Mckile Albino said. 
Drumline showed off their ability to be strong and stiff with the flow of music and incorporating the motions that sought to mimic a river Albino believes that struggling with personal life and having a social aspect were the most difficult moments for them. Drumline showed that they are ready to take on the next marching and winter season with a bang.   
"I think that a lot of people were still not very used to how things were beforehand," Albino said. 
At the very end congratulatories were given to the coaches for sticking with them to the end of the season. For sticking with us till the end of the season. And hoping for next year to be just as good as this but with aspects to make it even better.