Elijah Garcia hits a home run for his academic, baseball career
Sophomore Elijah Garcia makes an appearance on Buena high school's baseball field ready to shape his career. Garcia started his freshman year at Saint Bonaventure playing on the varsity baseball team for the 2022 season but decided to transfer to Buena to start his sophomore year.
"I felt Buena would bring better opportunities for me and I would accomplish more," Garcia said. 
Garcia started playing baseball at the age of three where he found his spot on the field as a catcher. Growing up Garcia looked up to many players for inspiration, including his all time favorite player Ken Griffey Jr. 
"The way he played, it was like his own game," Garcia said.
On the field, Garcia is an outgoing and determined person. His main focus has always been baseball and all his free time goes into becoming a better player. 
Despite only knowing him for a few months, Buena baseball coach Jared Patterson can already tell that Garcia is a gifted catcher with good athleticism.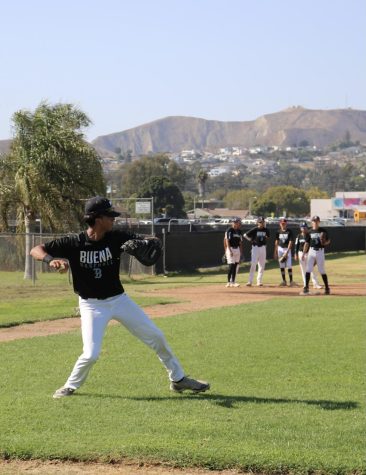 This summer Garcia verbally committed to  UCSB (University of California Santa Barbara). Garcia hopes to further his baseball career and academics at UCSB. 
"It does not feel real, I am very excited to see where my future will go," Garcia said. 
Garcia's biggest supporters are his parents, they have helped him achieve what he has always dreamed of which is starting to become a reality.
 "It feels good knowing it was actually worth it, all from the help of my parents," Garcia said. 
Garcia feels very welcomed on the Bulldog field with his new teammates and hopes to make more memories on and off the field this season. Garcia's goal for the 2023 season is to bat over .250 batting average.
"I want to help my team out and help as much as I can on the field,"  Garcia said.