Buena Cross Country run themselves to tenth in state
The Bulldogs cross country team made  Buena history by taking seventh out of 41 schools in one of the biggest meets in the country, the Asics Clovis Invitational, landing them  tenth in the Division 3 State rankings.
Coming into the race, the Bulldogs were not seen as one of the top contenders. "We knew coming into this race we had a lot to prove," Head Coach Aaron Torres said. "We were very confident in ourselves."
Prior to the Clovis Invitational, the Bulldogs showed excitement and confidence after running a strong race at the Channel League meet at the Lake Casitas Cross-Country Course. "We've been getting better and better," Coach Torres said. 
Knowing that the pressure was on, the Bulldogs had a plan and knew exactly how to execute it. Team captain,senior Michael Torres, led the pack and ran exceptionally well finishing tenth out of over 200 runners.  "I just cleared my head, and thought step on the line and just race," Torres said. 
Coach Torres was exceptionally proud of Michael Torres', his son, performance in the race. 
"He put himself in that lead pack, and just got the job done," Coach Torres said. 
"
"I just cleared my head, and thought step on the line and just race."
— Michael Torres
The whole team ran extremely well, more than one of the Bulldogs had a personal record after completing the race. Buena found their stride, and most notably, beat up Mission Vieja who was ranked seventh, and Bray Lindo ranked tenth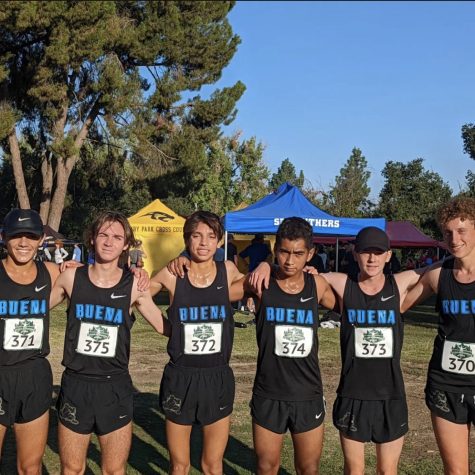 Now that the Bulldogs have proven themselves, Coach Torres' next step are simple, to  "work harder". Buena now finds itself ranked higher than Mission Vieja, and Bray Lindo, but the rankings won't matter as all teams gear up for the CIF State Cross Country Championships, Nov. 26, 2022 in Fresno, CA.
When the rankings were initially released, the Bulldogs were notably missing. Frustrated, Michael Torres tweeted at the person in charge for the rankings to ask why they were missing. After realizing the results were inaccurate, they were updated to reflect Buena's tenth place standing
"Buena's kind of left out, we aren't on anybody's radar, but we beat up on a lot of good teams in the state," Said Coach Torres. 
Coach Torres has made the decision to pull his team from a few of the upcoming meets in order to give them more time to train for the postseason. The Bulldogs are often seen as the underdog in cross-country, and to Coach Torres, that's okay because he knows that when it is time to show out, his team will do exactly that. 
"We will stay under the radar, and prove ourselves again on Nov. 4 at the Channel League XC Finals," Coach Torres said.