AVID and ASB holds a college spirit week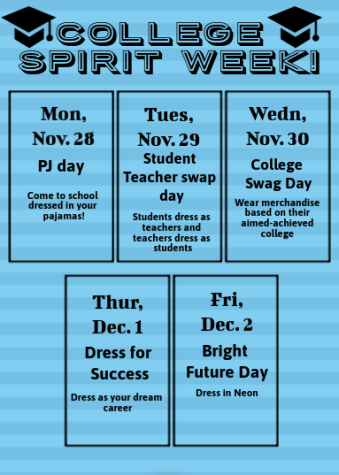 AVID and ASB worked together to put on a College Spirit Week that was Nov. 28 to Dec. 2, to promote Buena students to attend college. Every day of the week had a different themed dress up day, and BARK classes got to participate in AVID's college door decorating contest among other activities.
"The seniors had to submit their applications," AVID student and sophomore Jordan Gonzales said. "So we wanted to celebrate the seniors for all their hard work because applications are so hard to do. We wanted to do a little celebration for them and remind everyone that college is important."
Mon, Nov. 28, students got to jump straight out of bed and head to school, wearing their pajamas to participate in PJ day. A noticeable trend among students was wearing christmas themed pajama pants, mainly with the red and black plaid pattern or the Grinch. However, many students just showed up to school wearing what they felt most comfortable in. 
Teachers and students switch places Tuesday Nov. 29, students dressed up as their teachers, and teachers dressed like students. Teachers who dress more formally in button up shirts and ironed clothes, showed up to school wearing casual clothes, while students wore neat uniforms; some even carried a prop to represent a class subject. 
Between the days of this spirit week, AVID students posted flyers amongst the school with QR-codes that would send you directly to a presentation of a college that they could look into. These different presentations were all made by AVID students about colleges they're currently looking to go to, hopefully encouraging other students.
"
Former AVID students, Mrs. Loughman, and I had discussed doing a College Spirit Week previously, but had to shelve the idea due to COVID, so we revisited the idea this year and planned our very first one,"
— Heather Arrambide said.
Students wear merchandise based on their aimed-achieved college Wed. Nov. 30, and while most students wore sweaters of a college their parents or older siblings went to, some teachers wore clothes to represent the college they had previously attended. 
While teachers just dress in their usual teacher attire, students dress up as their future career goal while participating in 'Dress For Success Day' Thurs, Dec. 1. Students came to school dressed in a variety of different careers such as doctors, business professions, teachers, professional sport players, and more. 
The final day of the week, Fri. Dec 2, students wore neon clothes and glow sticks to represent 'bright future day'. To show the students the great futures ahead of them, students get to wear bright vibrant colors. The AVID college door decorating contest winner was revealed to be english teacher, Karin Childress, and her bark class won first place and will soon receive a study snack gift box for their win.