New girl's flag football, 'the inception of a sport' according to Assistant principal Tina Perez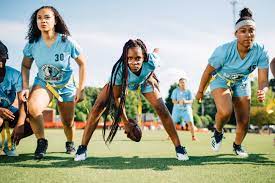 In Feb. of 2023, the CIF (California Interscholastic Federation) administration unanimously voted to begin including girl's flag football as an official Fall sport for the next school year, with the first season occurring this coming Fall. Many students, like freshman Paulina Guerrero, are extremely excited for what the team will bring.
"I'm excited… to use this opportunity to make new friends in a new sport," Guerrero said.
Many of the details are currently still up in the air because, as of now, the National Federation of State High School Associations and CIF have not published the guidelines that schools must adhere to. This means that it is not yet possible to hire a coach, because the position's workload cannot be defined.
"We're all kind of clamoring for it [the rule book]," Assistant Principal Tina Perez over athletics said. "If you want us to do it, we need some guidance."
Despite the obstacles still being smoothed out, there are more general factors that have been estimated. Games will take place on a shortened football field of 80 yards by 40 yards, with a set up of seven on seven and will be made up of four 12 minute quarters.
Ventura High School has also confirmed that they are integrating this sport into their campus. Aside from that, it is now yet known what schools outside of Ventura will participate. This, too, will make itself known closer to the season. However, the confirmed teams will consist of most of the Channel League, Buena's CIF-SS league. 
"
We talk about women being involved [in sports] and this is just another leap for that
— Assistant Principal, Tina Perez
This mystery regarding participation is happening because, although CIF has sanctioned flag football to be played as a sport, it is not required. It merely means that it is "allowed."
"It's up to every school…Foothill doesn't have football even though it's allowed, " Perez said. "[It is the] same kind of thing; now flag football is a sport, but it's up to each individual school if they're going to participate."
Now, do not be fooled by this sport's seeming similarity to the annual Powderpuff game; they are completely separate. Where Powderpuff is regarded more as an event, orchestrated by ASB and various participating sports teams, this flag football league is a CIF sanctioned sport. 
This team is also not to be mistaken as an alternative to the girls who would like to try out for Buena's tackle football team. Those interests are still encouraged. But now there are more options.
"We talk about women being involved [in sports] and this is just another leap for that," Perez Said.