Lukas Sandoval works his way through ASB and his life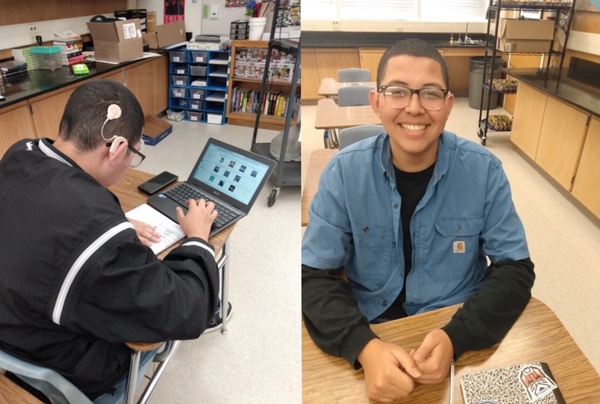 Constant chatter envelops the Buena ASB room as sophomore Lukas Sandoval works among the crowd in his committee, Student and Staff recognition; his calm, cool and collected manner is apparent as he perfects cards to recognize the teachers and students for all the hard work they have accomplished. 
Every student has challenges to overcome and one of Sandoval's is his hearing loss which he says began deteriorating in kindergarten .
 "I would mispronounce words because of the frequency of the letters and it got to the point where I would say the words funny. I then got my first set of hearing aids in kindergarten," Sandoval said.
Sandoval's hearing continued to decline and in first grade he had his first surgery for a Cochlear Implant in his left ear. Then, when he was in second grade, he had the same surgery for his right ear. Towards fifth grade he ended up completely losing his hearing. 
When Sandoval entered high school, he was excited but also nervous due to the fact that he was finally returning to in person schooling after being online through quarantine. Sandoval considers himself funny and studious as he works throughout school and over time he began to form a passion for science.
"I love science. It's one of my favorite subjects because in my opinion, there are endless possibilities and answers while discovering science," Sandoval said. 
Along with enjoying science, he grew fond of being in ASB during middle school and here at Buena. 
"While I was in middle school, I was a quiet person who didn't have that many friends. I decided to join ASB hoping that I would be able to connect more with my classmates," Sandoval said. 
When he entered his freshman year at Buena, Sandoval joined ASB again to experience more creativity and growth for himself. Sandoval was able to learn and grow as a person through ASB, family, and friends. 
"
"After being deaf for so many years you can tell if people are genuinely helping you or treating you like you are really dumb.
— Lukas
Because of his hearing, Sandoval experiences struggles, but also positives. Because of his "robot ears", Sandoval explained that it makes him different from a "normal person".
"Some people view it differently than I do, but I view it as a positive, a difference, and that is one of the things I view as pro," Sandoval said. 
But, with the good comes the bad and Sandoval has experienced some setbacks and difficulties based on the way people treat him due to his hearing loss. 
"Some people are not very open and considering that I am deaf. They do not like repeating things to me," Sandoval said. "After being deaf for so many years you can tell if people are genuinely helping you or treating you like you are really dumb."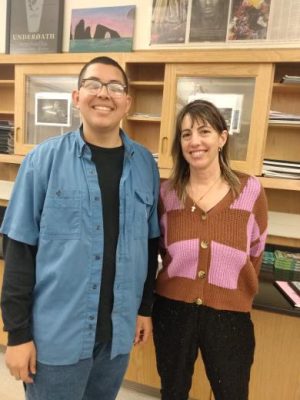 One person who has been a support to Sandoval is Jennifer Fraiser, affectionately known as Mrs. Jen, a captionist who transcribes the lessons and instructions of Sandoval's teachers throughout the school day so that he can review lessons he may not have heard well.  She has been supporting Sandoval as a captionist since sixth grade and they have become a strong team.  
"Lukas has a very fun and enjoyable personality and it's nice to be around him," Fraiser said. "He works really hard in school to get good grades and he does get really good grades. He's a very fun kid to be around with."
Since his freshman year, Sandoval has also created close friendships on campus through his involvement with campus leadership through ASB . 
"I've known Lukas since the summer of freshman year for ASB camp and something interesting about him is that he doesn't use his disability as an advantage for things," sophomore Dominique Neathery said. "He doesn't use it to benefit himself more than others or as an excuse to get away with things. He's a very responsible and easy to like person and I respect him for that."  
Sandoval still has more to achieve and learn but one of the things that he would want to do in his future is be involved in the medical field. 
"I owe my life to certain doctors and nurses because I've been going in and out of hospitals my entire life," Sandoval said. "It really opened my eyes to how much the medical field helps not just me but others as well, which is why I'm thinking of becoming a radiologist," Sandoval said.