Filmmaking program holds annual student film showcase
The film production team is presenting ten short films as part of a two hour showcase May 25, 2023 in the little theater. Doors open at 5:30 pm and the show starts at 6:00 pm. Showcase admission is free, even after their CTE (Career and Technical Education) funding was cut.
"The Film Showcase is an annual event that is meant to highlight the accomplishments of the students in the filmmaking program," filmmaking teacher and curator of the films Amanda Graves said.
The genres featured will include mockumentary, two animated shorts, a western, and a tribute. According to Graves, the presentation will "mix things up," giving the example of 15 minute shorts that can be contrasted with two less lengthy shorts. The films have been judged by a panel who have experience in the industry. 
"There's a range of different talents on the judging panel. They receive a folder of the submissions and they receive a Google form," Graves said. "… they watch and then they vote for the winners [in each category]," Graves said.    
Awards are similar to the Oscars having separate categories. The awards given are: Best Acting, Best Editing, Best Directing, Best Cinematography, Best Short film, Audience Choice award, a new Best Screenwriting award. The Audience Choice award is selected through a QR code that appears on the screen at the end of the show, giving the audience an opportunity to vote for their favorite film.
About eight to nine contestants submitted last year, with six shown at the showcase. This year, ten students submitted for the showcase, all of which will be presented at the showcase, along with original music for the intro and closing of the awards by Senior Justin Greiner
"Really the whole purpose of the showcase is to inspire filmmakers to keep creating," Graves said.
Due to the CTE cuts in programming, the Filmmaking program will have to raise funds on their own moving forward.
"We'll have to fundraise to be able to buy things like the awards and if I were to hire an outside projectionist that would be something I'd have to fundraise for." Graves said. 
Check out the trailers on the Filmmaking Instagram, @bhsfilmmaking. All trailers will be released by May 19.
*Continue reading for additional information about each film featured at the showcase with interviews from each director, in no particular order.*
The Photography Club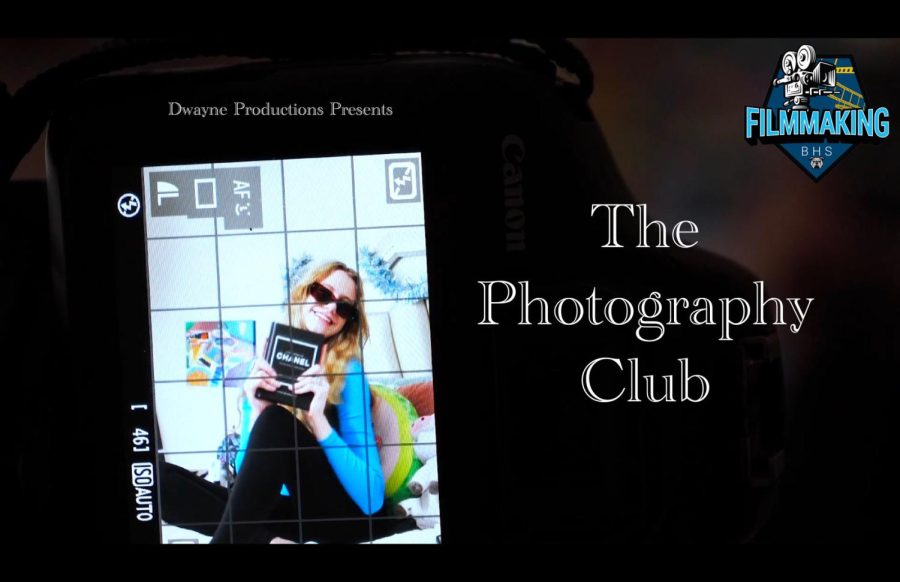 Created by Zulidni Hernandez and Cristal Hernandez
A 7 minute satirical mockumentary following students in the titular Photography Club, that holds a competition for who takes the best photos of the club. The film depicts a satirical take on the variety of personalities you see in schools. Brooke Wiley is featured on the poster, and is "one of the popular girls."
"It just goes with the lives of the students who are in the club," Cristal Hernandez, director of "the Photography Club," said.
On My Own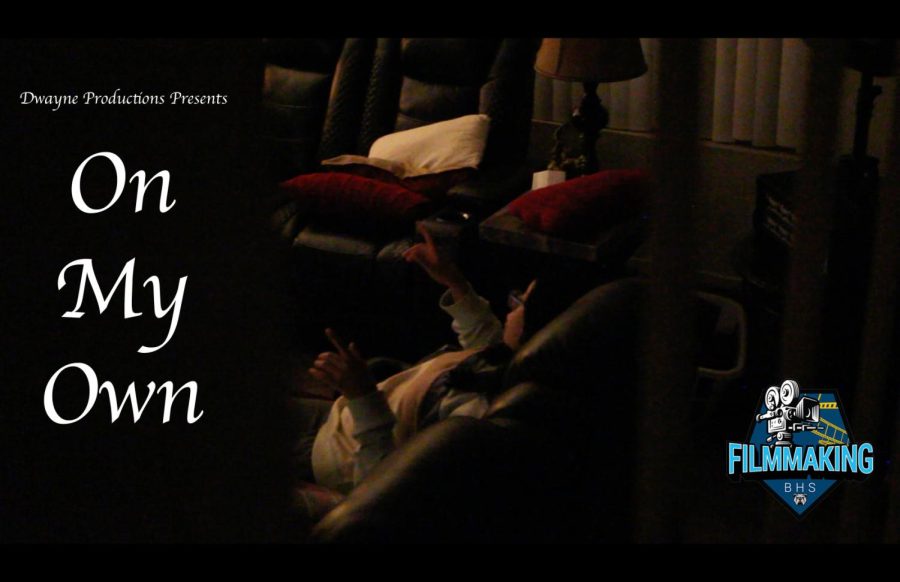 Created by Cristal Hernandez
"On My Own" is a 2 minute horror short following a girl who is isolated in her home, surrounded by the darkness when she realizes something isn't right. Senior Cristal Hernandez created this short within seven hours and 4 nights of filming. 
"It was last minute and it was 10 at night when I came up with the idea of 'On My Own,'" Cristal Hernandez said.
Stay With Ukraine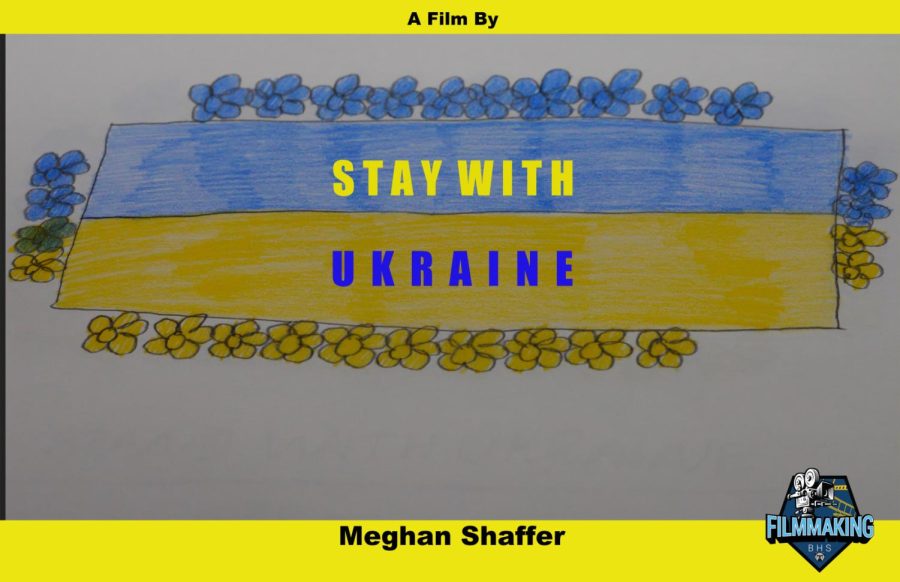 Created by Meghan Shaffer
A minute and a half political children's animation about the Ukraine war.
"A small country and her president are being invaded by a president of a larger country, therefore, the small country must seek help from her allies to help maintain her freedom," freshman Meghan Shaffer said.
Stay With Ukraine takes a unique approach to telling the story of the ongoing war in Ukraine through its storytelling medium and tone.
"[The short is] demonstrated in a cute way…[it] explains the war between Russia and Ukraine to a little kid," Shaffer said.
"Stay with Ukraine" has a relevant and straightforward political message.
"It's basically right there in the title, stay with Ukraine. Go support them," Shaffer said.
Snowbird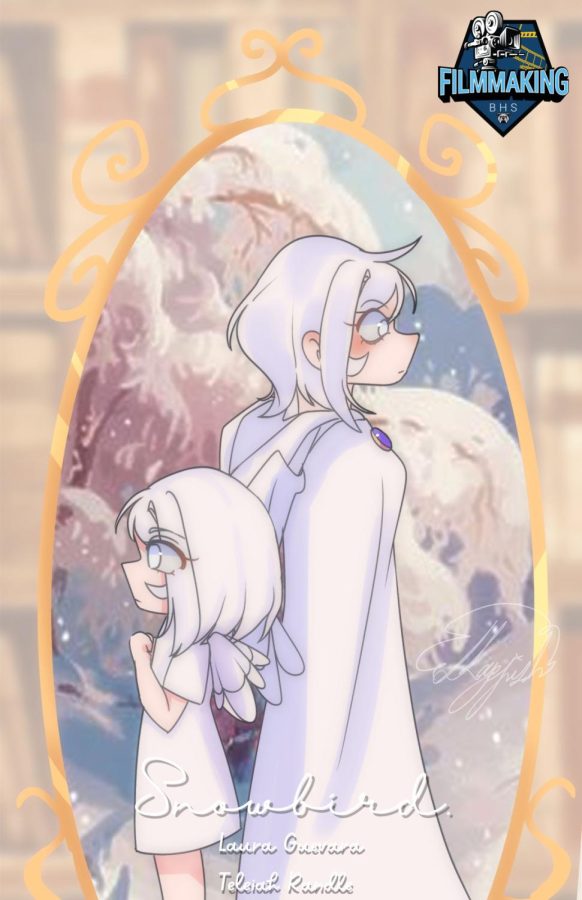 Created by Laura Guevera and Teleiah Randle
A fantasy animation where a small girl is lost whose appearance resembles a bird, and soon is taken in by royalty. She is faced with defending the royal family after the death of the king.
It was storyboarded and directed by Junior Laura Guevera with Teleiah Randle animating digitally.
"It was just a story that one of my friends made a long time ago and they thought about putting into action," Guevara said. 
The Man With the Six Shooter
Created by Claire Thomas and Ethan Potter
This short is about a gunman known as Six seeking to avenge his sister. After taking up a job, Six finds himself in a lot more trouble than anticipated. Co-directed by seniors Claire Thomas and Ethan Potter and written by Thomas, the film is inspired by 70s westerns and is meant to be a TV pilot with a runtime of 15 minutes.
"It's an affectionate spoof sometimes but it also does try to be its own thing," Thomas said.
While working on the project, Thomas drew inspiration from her past with westerns.
"Growing up with my dad, we watched a lot of westerns together, so I'm very happy to be involved in a project [that] is a western," Thomas said. "It helps me connect to my past."
Sanctuary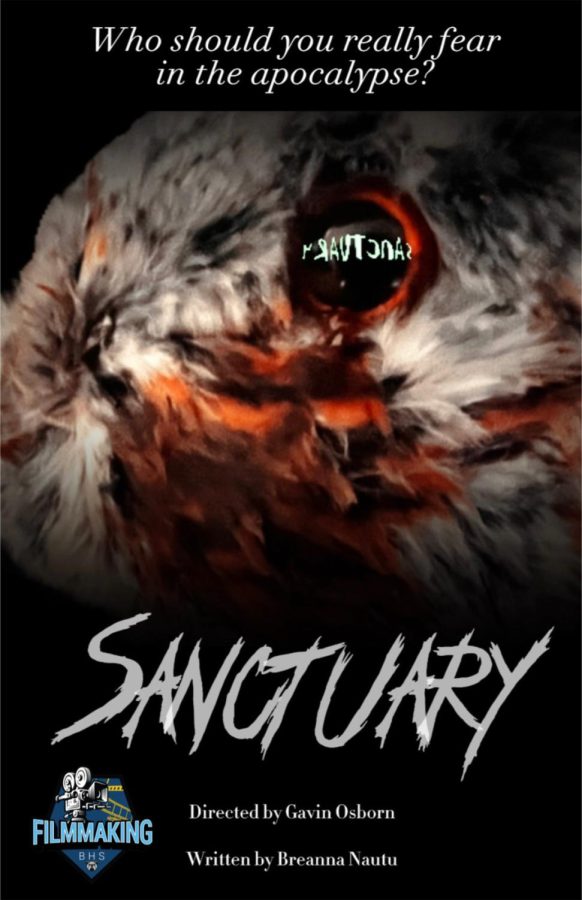 Created by Breanna Nautu and Gavin Osborn
A 2 minute apocalyptic short, Sanctuary follows an ex-soldier protecting a safe haven in the midst of a zombie outbreak. The concept came from the director and Sophomore Gavin Osborn, and the screenplay was written by senior Breanna Nautu. Created a week before the deadline, the story focuses on a betrayal.
"Sometimes you go too far to protect your safety and you end up endangering others or your idea of safety is just completely thrown out," Nautu said.
Thompson Manor Terror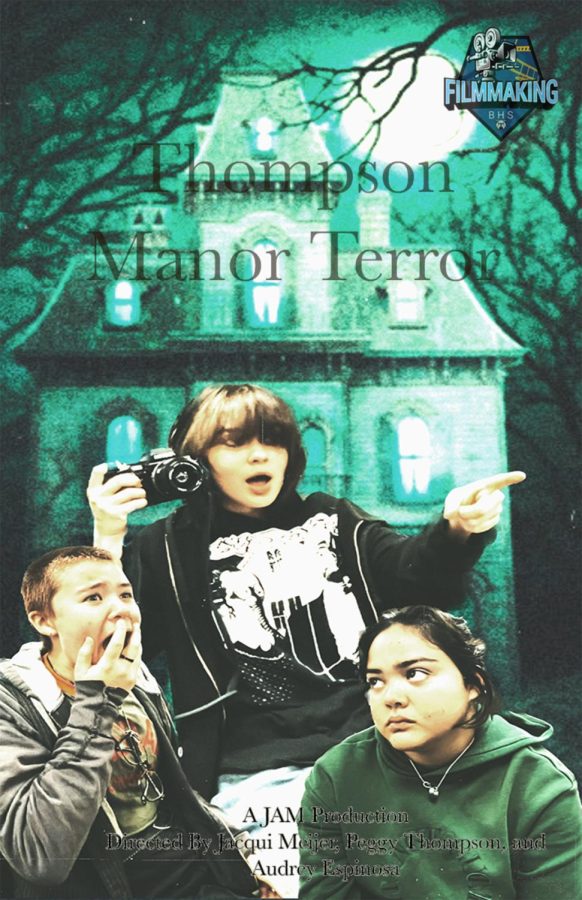 Created by Margaret Thompson, Jacqui Meijer, and Audrey Espinosa
"A spooky adventure of three teens exploring a haunted house," Senior Margaret "Peggy" Thompson said.
"Thompson Manor Terror," co-directed by Thompson was made as a mockumentary making fun of horror like "The Blair Witch Project". The 5 minute short has a "cheesy" tone to it, and Thompson wanted people to  "have fun with film."
The Shirt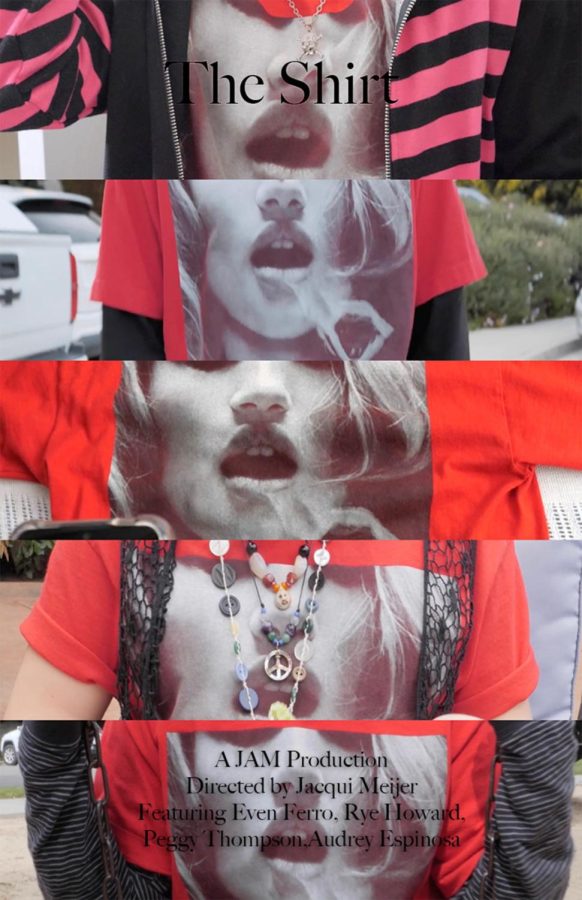 Created by Margaret Thompson, Jacqui Meijer, and Audrey Espinosa
"The Shirt" is a 5 minute film about a shirt that is passed through five different people as a "natural circle of life." It is co-directed and written by Thompson who also created original music for the film. Thompson was inspired by how clothing is passed down in "modern day fast fashion."
"I want people to be more conscious of their clothing and where it came from and will go when they're done with it. I also want other filmmaking students to see that a simple idea can hold a lot of meaning," Thompson said.
One Night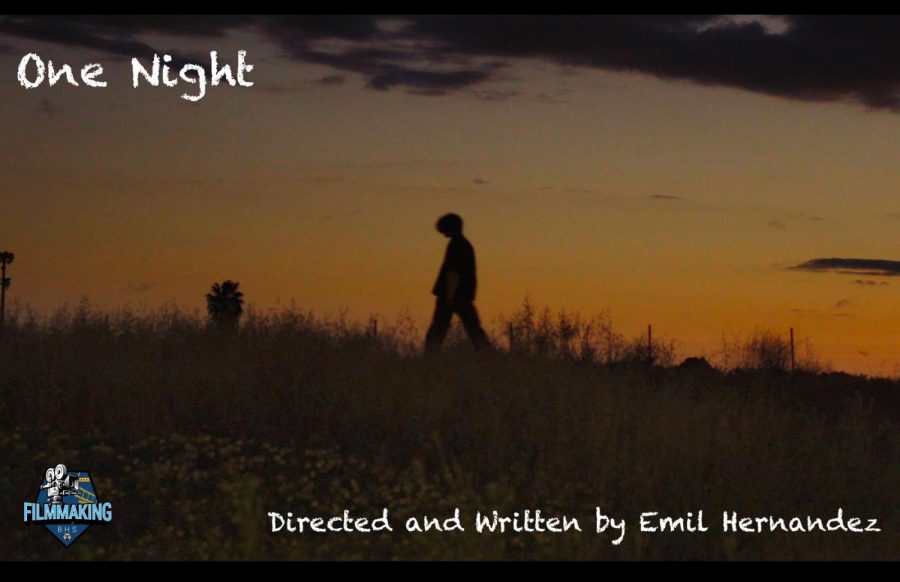 Created by Emil Hernandez
A suspenseful somewhat dark comedic short about Shawn, a guy who has a "tough time." He loses his job and his relationship worsens in one night.
Writer and Director and junior Emil Hernandez wanted to have a visually striking film. He was inspired by "Barry," a black comedy TV series and the postponing of the original idea he had for his third film.
"My [original] third film made me kind of sad. So I used that, on top of [wanting] to go somewhere dark. With 'Barry' but a little bit funny. And then just the music from the movie 'Infinity Pool' all together." Hernandez said, on what inspired the project. "I just made this film and my main character to compile it all together." Hernandez said.
This was initially meant to be a follow up to "Him" but goes for a darker message.
"…everything can go wrong in one night and for my main character, he took it one way, although it's not the highly recommended way of dealing with certain situations," Hernandez said. "It is definitely one way to deal with situations and… the impact of those actions that he made. So I will say, don't do what he did," Hernandez said.
Terror of Mechagodzilla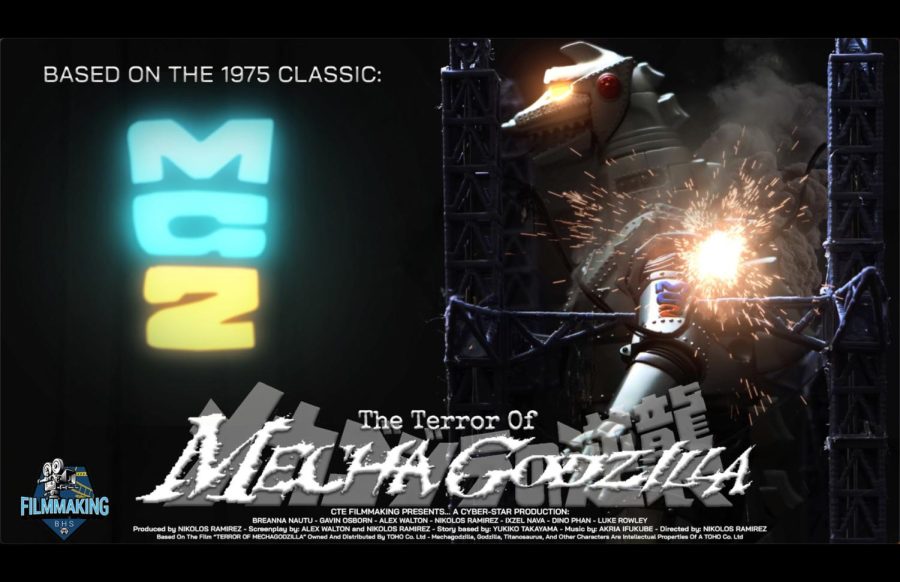 Created by Nikolos Ramirez
Terror of Mechagodzilla is about Mechagodzilla returning to have a rematch with Godzilla and destroy Earth as we know it. The tribute is primarily live action blended with stop motion.
Those who attended the showcase last year may recall a film called "Godzilla vs. Mechagodzilla," directed by junior Nikolos Ramirez as a tribute to the film of the same name from 1974. Ramirez returns this year with tribute to the 1974 film's sequel "Terror of Mechagodzilla" from 1975 as "it would just be logical to do that one instead of… a completely different idea."
Ramirez was terrified of his first Godzilla movie, Godzilla (1985), but wasn't a fan until the release of the "Godzilla" (2014). He made Kaiju films featuring Godzilla before joining the Filmmaking class.
"I did some of my own little works here and there… I tried to recreate some famous battles [from the Godzilla series]… just fun stuff," Ramirez said.
Ramirez had felt that a weight had been lifted off his shoulders when people cheered for the monsters in "Godzilla vs Mechagodzilla" in last year's showcase.
"All I care about is that someone could just walk away just being entertained," Ramirez said. "You don't have to go that deep into a whole narrative. It could just be mindless entertainment."