Editor in Chief Brooklin Barilone pens her own future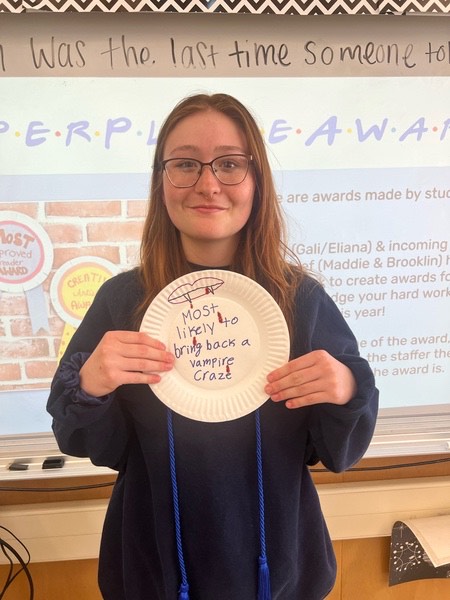 Brooklin Barilone is no stranger to hardship; Growing up, things in her life never seemed to sit still and now it seems she has inherited this frenzied trait. While recounting her parents' divorce eight years ago, her hands could not decide where to settle, as they danced from the hem of her plaid skirt to hurriedly tucking her ginger hair behind her ear.
Her experience after the divorce was like living a "double life." The intensely different environments she experienced were not simply because she lived with both her mom and dad, but also because her parents, individually, moved around constantly due to financial difficulty.
As unpredictable as her childhood was, Barilone's love for writing blossomed out of that malnourished soil. She found solace in a world she could create from scratch with nothing but her own words. 
"It helped me with escapism and finding the beauty in situations," Barilone said.
Now, as she takes in the end of her senior year and run as co-Editor-in-Chief at Buena Speaks, she tries her hardest to focus on the opportunities she has been given because of her passion for writing and the work she put in to pursue it.
"[Journalism] has helped me see how artists, including writers, are needed," Barilone said. "We are the voice of the people."
Success has not exactly come easy for her, but Barilone has never let that hinder her dreams or her kindness toward others. She is someone who has experienced, first-hand, people's lack of kindness as a victim of bullying in her early years of high school. The cruelty she experienced from her peers could have made her bitter, but instead, it taught her to be understanding. A result, she says, of feeling misunderstood.
"Brooklin seems like she has a clear sense of right and wrong and justice versus injustice," English teacher Andrew Coates said. "And she knows how to articulate it really well in a piercing, biting way." 
Throughout her time at Buena, Barilone has touched many people's lives by becoming the "remedy" to Buena's "culture problem," as Coates referred to her leadership and ambition.
"
I would not want to be on the wrong side of an argument with her.
— English teacher, Andrew Coates
After a year of intense growth, she is currently preparing for the journey of the next phase of her life. As of now, the plan is to attend Ventura College for two years, then transfer to California State University of Channel Islands. Majoring in English with an emphasis on creative writing and a minor in business, Barilone hopes this guides her on the path of achieving her dream of writing; Non-fiction for a job and fiction for passion. After that, she is holding out hope that her proficiency and love for writing takes her somewhere enjoyable.
"Her [Barilone's] growth in confidence is noticeable, and she has reason to be confident. But it seems like she is starting to realize that," Coates said.